In brief
Claim
People with a terminal illness are being declared fit to work and told to apply for jobs.
Conclusion
Examples of this happening have been reported by the media and charities, but it's not supposed to. We don't know how widespread this is.
We were asked by readers to factcheck this image, which has been widely shared online.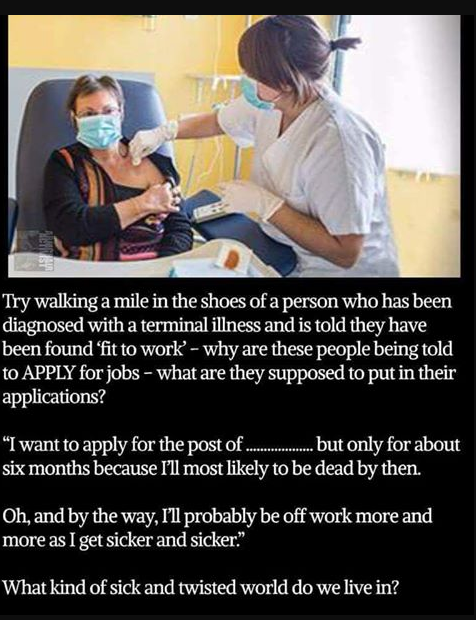 There have been cases, reported in the media and by charities, where people with terminal illnesses have been asked to meet work coaches, attend work-focussed interviews, or told their benefits would be withdrawn as they were deemed fit to work. We don't know of any research into how widespread this is.
The government's definition of terminal illness in this case is a progressive disease likely to cause death in six months or less. Though it does say it realises that predicting "life expectancy isn't an exact science".
When applying for some benefits, such as Universal Credit and Employment and Support Allowance (ESA), there are 'special rules' which should apply to people with a terminal illness. They are not meant to have face to face assessments to claim certain benefits, and their applications are fast tracked so they can get their payments sooner.
The government says that: "Special rules for people who are terminally ill provide a guaranteed entitlement to benefit… We are committed to meeting the needs of terminally ill claimants, therefore these rules are kept under review on an ongoing basis."
It also said it's aware that some people have encountered "issues with the service" for terminally ill people trying to claim universal benefit and of "concerns raised about the process".
Claiming benefits with a terminal illness
ESA is a benefit for people with disabilities or illnesses which mean they are unable to work or can only work a limited number of hours. Income-related ESA is also one of the benefits being replaced by Universal Credit.
Most people who apply for ESA or Universal Credit undergo a work capability assessment to decide whether they're eligible. For ESA, if they are eligible, they will be put in one of two groups—a work-related activity group which involves interviews with an advisor and working to improve job prospects, or a support group with no interviews.
Terminally ill people should be assigned to the support group when they apply, in this group they can receive a higher rate of benefit. People with a terminal illness who claim Universal Credit may also be able to receive a higher rate of benefit.
In the DWP's guidelines for work capability assessments, it says that "there is no requirement for terminally ill claimants to participate in any form of work-related activity".
3% of those assigned to the ESA support group after first making a claim in June 2017 were assigned to the group because of terminal illness. This was around 300 people.
If someone is declared fit for work after their ESA work capability assessment and disagrees with the decision, they can ask for a mandatory reconsideration of their case. If the decision is not revised, they can appeal again at an independent tribunal.
You can read more about fit for work appeals in our factcheck here.
Defining a terminal illness
Some people think the definition of a terminal illness should be changed. The charity Macmillan Cancer Support asked the government to change its definition from six to 12 months over a decade ago. The terminal illness charity, Marie Curie, says the definition is not fair on those who require financial support but aren't likely to die within six months.
New laws in Scotland will replace the six month definition. For a number of benefits that are to be devolved to Scotland a terminal illness will now be defined as an illness that a clinician decides "can reasonably be expected to cause the individual's death". These devolved benefits don't include Universal Credit or ESA though.
Full Fact wants to see greater accountability for public figures who mislead us—and we need your help.
Political debate in the UK is in flux right now. The UK's exit from the European Union is approaching, we will soon have a new prime minister and potentially a general election.
We want politicians to tell the truth, and while the best politicians realise that their work should be done honestly, some aren't taking their responsibilities seriously. Both sides in the EU referendum campaign let voters down, from deceptively designed leaflets to some of the arguments made on each side. The public rightly expects more from politicians.
We want to see greater accountability for public figures who mislead. Full Fact will continue to advocate for higher standards and call out those who don't uphold them.
But we rely on the generosity of our supporters to make sure we can spot the most harmful misinformation when we most need to.
Can you help us?
Support better public debate today.
---