The changing face of welfare
31 August 2016
Around 28% of all government spending for 2016/17 is expected to be on welfare payments. That's £218 billion.
Over the last 20 years the amount spent on welfare payments has generally increased. However, it has levelled off over the last five years and is projected to remain roughly the same through to 2020/21.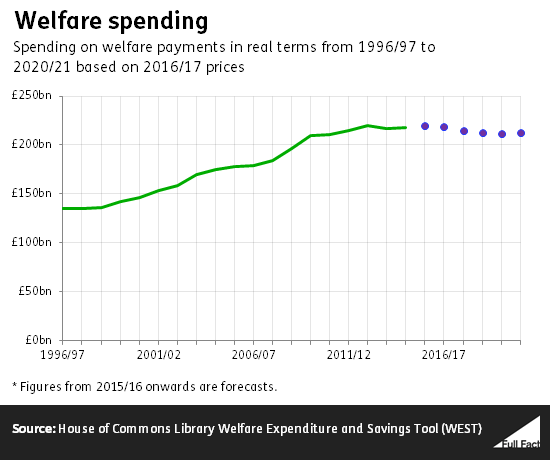 The figures in this article cover the amount paid out in benefits, tax credits and pensions to the people who get them. They don't include things like social services or the administrative cost of running the welfare system.
What gets the most spending?
The State Pension makes up the largest proportion of welfare payments and is now around £92 billion.
It's also growing as a share of overall welfare spending. In 1996/97 it made up 36% and in 2016/17 it now makes up 42%. It's the only bit of the welfare and social security budget which is predicted to significantly increase over the next few years.
How has the system changed recently?
Since 2010 the government has introduced a number of changes to the UK's welfare system.
Two new types of welfare payment have been introduced: Universal Credit and the Personal Independence Payment (PIP). These new welfare types have been controversial and generated a lot of publicity, along with changes to Housing Benefit.
The government has also continued to roll out a number of other benefits which were introduced before 2010 and reduced the total amount of benefits a person can receive.
The government has also introduced plans to decrease some of the spending on welfare. Without these changes, the projected welfare payments for 2015/16 would be around £244 billion.
How many people receive welfare payments?
The State Pension, accounts for the largest proportion of welfare payments. Almost 13 million people received a state pension in February 2016. That's an increase of over one million people compared to a decade earlier.
As of February 2016 around 4.7 million people of working age—up to 64 years old—received some form of welfare payments. 760,000 working age people received welfare support because they were unemployed in February 2016, getting either Jobseeker's Allowance or the new Universal Credit. This figure has generally been falling over the past few years.
The number of people receiving Employment and Support Allowance, Incapacity Benefit or Severe Disablement Allowance has remained steady at around 2.5 million.
What is Universal Credit?
This is a new form of welfare which households with low incomes or who are out of work can qualify for.
It's made up of a standard allowance, which varies depending on your age and circumstances, and a number of extras for people with children, disabilities or health conditions.  The payment is reduced as you earn more.
Universal Credit is set to gradually replace other benefits such as Jobseeker's Allowance, Employment and Support Allowance, Child Tax Credit and Housing Benefit. It will also replace some existing disability benefits.
It was introduced in 2013 and originally planned to be fully rolled out by 2017. But it has been delayed a number of times and is now scheduled to be completed by September 2018. Initially Universal Credit is only given to households making new claims for welfare payments, not those already receiving payments.
From July 2019, households who already receive these older types of welfare payment will be switched over to Universal Credit. This process is due to be complete by 2022.
The new system is meant to make the benefits system easier to understand, make it easier for claimants to move in and out of work and create incentives to work.
The House of Commons Library says that "People with severe disabilities will benefit from the changes, but disability organisations are concerned that some groups of disabled people will get less than they do under the present system. There is particular concern that some families with disabled children will get significantly less that the currently do through tax credits."
From its introduction until July this year almost 425,000 people had started a Universal Credit claim. In July almost 304,000 were actually claiming Universal Credit.
How has Universal Credit changed since it was introduced?
Since Universal Credit first began to be rolled out the government has reduced the amount households can earn before their payments are reduced. The amount varies will depend on the households' circumstances. For new claimants of Universal Credit, there will also be a limit on the number of children they receive money for. From April 2017 this will be set at two.
These changes are expected to reduce Universal Credit payments by around £5 billion a year in the long run.
The Institute for Fiscal Studies has estimated that 2.6 million working families will receive £1,600 less a year following these changes. Another 1.9 million families will receive £1,400 more.
The official Social Mobility and Child Poverty Commission said that it supports the aims of Universal Credit. But it also said that the changes presented a "risk [to the] original aspirations set out by the architects of Universal Credit" and could create fewer incentives for households to be in work.
How will welfare change for people with disabilities?
The Personal Independence Payment (PIP) is a new welfare payment which is replacing Disability Living Allowance.
It was first introduced in 2013 and is meant to assist with the extra living costs faced by people with a disability.
PIP was originally meant to reduce the number of people receiving disability benefits and overall payments by 20% compared to the old system of Disability Living Allowance (DLA).
But in March 2016 the Office for Budget Responsibility said that the reduction in spending would now be much less—closer to 5%, or around £400 million. What will happen to disability benefits?
In March this year the government announced that it wanted to change the assessment criteria for PIP. It intended to reduce how the use of aids and appliances in certain activities were measured to predict the living costs of an individual.
The government estimated that PIP would decrease by around £4.4 billion from 2016/17 to 2020/21 as a result of the changes. By 2020/21 around 640,000 people will have been affected by this change.
A number of disability charities said these changes were unfairly penalising those living with disabilities. The Work and Pensions Secretary at the time, Iain Duncan Smith, resigned over the issue. Following the resignation, the government announced that they would not be making any further changes to PIP.
What's the 'bedroom tax'?
In 2013 the government introduced a change to Housing Benefit which meant a reduction in payments for those households that had more bedrooms than it thinks they need.
It became known as the 'bedroom tax'. The government prefers 'removal of the spare room subsidy'.
In May 2016 almost 4.7 million people received Housing Benefit and roughly 432,000 had this payment reduced because of under-occupancy. That's around 9%.
How has this affected people?
A number of papers have reported that 57,000 households affected by the change have fallen behind on their rent.
This is correct, although the 'bedroom tax' isn't necessarily the only reason for their financial problems.
During 2014/15 around 712,000 households were estimated to be behind in their rent payments, or had been at some point in the past year, according to a report issued by the government in July. Around 8% or 57,500 of these households said that one of the reasons for this was that their benefit payments were reduced as a result of 'under-occupying'.
But as those surveyed could give more than one reason, we don't know that all of these households would have fallen into arrears if not for the bedroom tax.
Councils across England, Scotland and Wales spent £83.5 million on discretionary housing payments to households affected by welfare changes as a result of 'under-occupancy' last year.
These discretionary housing payments can be paid to people who either qualify for Housing Benefit or who have housing costs covered by their Universal Credit payments. Local authorities decide who the money can be paid to and are provided funding by the government.
Can immigrants receive benefits?
EU citizens who live and work in the UK have similar access to welfare payments as UK citizens, though the rules are more complicated for those not working or who haven't found work yet. After the referendum we looked at how leaving the EU might affect this.
People from outside the EU and European Economic Area who have come to live in the UK are generally not eligible for welfare payments. They only qualify if they are granted indefinite leave to remain or asylum.
 Correction 31 August 2016
We corrected the figures for how many people are receiving or have started a claim for Universal Credit. These had previously been added together, but the DWP informed us that they count some of the same people.