In brief
Claim
The Scottish onshore economy is as strong as the UK's generally.
Conclusion
There's more than one way to look at this. The UK's economy has been growing faster than Scotland's recently, according to official estimates.
"The strength of the Scottish onshore economy is equivalent to the position of the UK"

Fiona Hyslop MSP, Scottish Culture, Tourism and External Affairs minister, 14 March 2017
This doesn't seem to be the case, based on the most recent estimates for economic growth as measured by GDP. But as ever, there are various ways of looking at this, depending on the exact data used and comparison made.
There are also lots of things you could mean by economic "strength". We've asked the Scottish government what Ms Hyslop was referring to.
She may have been referring to something like GDP per head. It's lower in Scotland than in the UK as a whole, but only by 2-3%.
The Scottish National Party recently published a "Scotland's economy: get the facts" article on its website, which instead of GDP focuses on things like productivity growth, average wages, foreign direct investment and youth unemployment.
In the absence of any confirmation about the specific measure used we're taking the narrow approach of looking at Scotland's GDP, the value of the goods and services it puts out.
Recent GDP estimates show Scotland lagging behind the UK as a whole
Scotland's onshore economy grew by 0.7% in the year leading up to September last year, compared to 2.2% growth across the UK as a whole.
That's estimating the value of all goods and services produced in Scotland, excluding North Sea oil and gas, and comparing it with the growth rate of the UK as a whole, including North Sea oil and gas.
Scottish government statisticians say that "when considering short-term change over time, the UK and Scotland saw similar levels of growth in 2013 and 2014. The UK has seen stronger growth than Scotland in 2015 and 2016".
Even if you ignore North Sea oil and gas on both sides of the equation, Scotland is still growing more slowly than the UK as a whole. The chart below shows quarter-on-quarter growth since the last Scottish independence referendum in late 2014.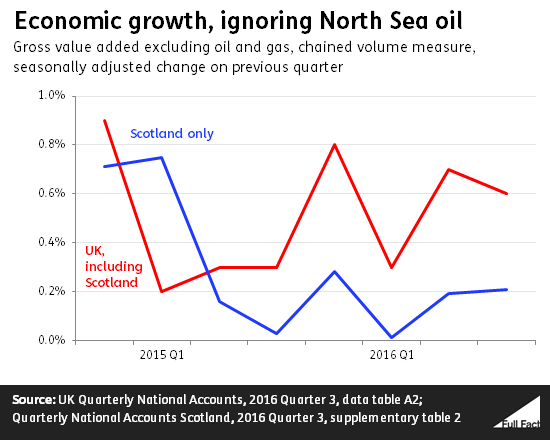 The quality of these GDP estimates has been criticised recently. For now, they're all we have to go on. We're trying to find out more about their reliability.
Correction 14 March 2017
We fixed a typo on this article shortly after publication.
Isn't it nice to have the whole picture?
We rely on your donations to continue and grow our factchecking efforts - to help us maintain our independence we need 1000 donors to give £10 a month. We are currently at 502 - please help Full Fact grow.
---