"The number of women who have lost their jobs under the Government's cuts has been twice the number of men, and the statistics out today show that the number of female redundancies is rising over the last few months"
Chris Bryant
"The unemployment statistics today actually have a number of very encouraging figures in them, including the fact that women's employment—the number of women in employment—is actually up 128,000 this quarter, with 250,000 more women in work than at the time of the last election"
David Cameron
Prime Minister's Questions, 12 September 2012
Today's weekly Prime Minister's Questions kicked off with a question from Labour MP Chris Bryant, honing in on the Government's record on women's employment.
Challenging the Prime Minister's 'butch' jibe at Labour last week, Mr Bryant pointed out that twice as many women have lost their jobs as have men, and that female redundancies were on the rise.
The Prime Minister hit back, claiming that women in employment had increased by 250,000 since the election.
But do both men have a point?
Analysis - David Cameron
Figures from the Office for National Statistics (ONS) on employment were published this morning, along with an excellent guide on how to interpret the figures.
The latest figures for May to July 2012 tell us that unemployment has fallen by 7,000 since February to April 2012, while employment has risen by 236,000. The number of women unemployed fell by 16,000 and the number of women in employment rose by 128,000. So all good news for the quarter.
David Cameron's point about the 128,000 rise on the quarter is correct, but where does his 250,000 rise since the election come from? Earlier today Channel 4 Factcheck called this 'fiction' and pointed out that the correct figure is 191,000 more in employment since the election.
Actually, a look at the figures shows that both are correct. Channel 4's figure is taken simply by looking at the May-July 2010 quarter and comparing it to May-July 2012. This indeed shows a rise of 191,000 women in employment.
However, David Cameron's 250,000 comes from comparing the most recent figures with the quarter before the 2010 General Election - February to April 2010. This is the last full quarter of the previous government, and shows a rise to the present day of 249,000.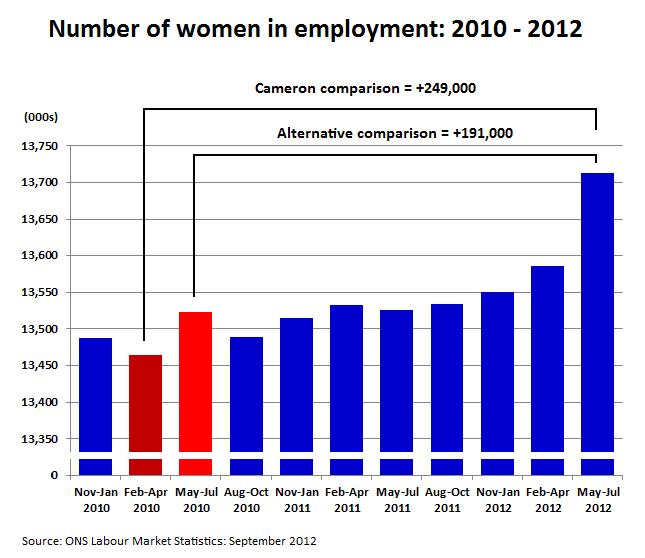 It certainly isn't unreasonable for the Prime Minister to use this comparison, as February-April 2010 represents the last full quarter under Labour and so the figures later on can be attributed (albeit barely at first) to the Coalition.
Analysis - Chris Bryant
The Labour MP made the point that twice as many women have lost their jobs as men under the Government's cuts, a less precise starting point than the General Election.
Looking first at the change in unemployment since 2010, 87,000 more women are now unemployed compared to the same period (May-July) in 2010. This compares to an increase in male unemployment of 29,000. In two years, this shows womens' unemployment rising at three times the rate of men.
However this is potentially misleading as it doesn't account for differences in the number of economically-active (either employed or unemployed) men and women. Looking instead at the unemployment rate, the proportion women out of work rose from 7 to 7.4 per cent over the same period. The male rate held steady at 8.6 per cent.
Of course, none to this strictly tells us the number of women who've lost their jobs - just the net change in unemployment.
To his credit, Chris Bryant also mentions that redundancies among women is rising over recent months. ONS statistics on redundancies show that 62,000 women were either made redundant or took voluntary redundancy in May-July 2012. This is indeed up on the quarter from 56,000 in February-April.
The latest figures are actually lower than they were throughout 2011, when over 70,000 were being made redundant or taking voluntary redundancy every quarter, although they are still higher than in 2010.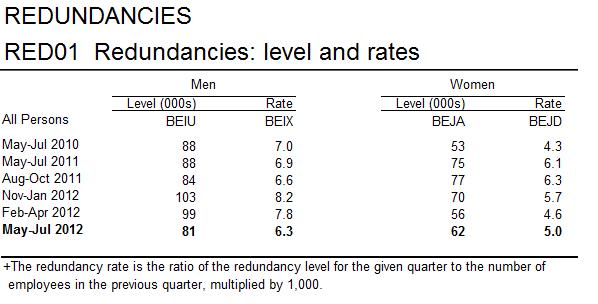 These figures at least also suggest that the rate of redundancy per 1,000 employees is higher for men than it is for women.
Conclusion
Chris Bryant is correct to point out that female unemployment has increased by more since 2010 than men, in fact by three times as many. The unemployment rate has also increased for women while it has flatlined for men.

Redundancies for women have also increased, although the Labour MP's figures do pick out a single quarter of bad news amidst what appears to be a decline in redundancies since 2011, and the redundancy rate for men is greater than that for women.
David Cameron's figures today are correct, provided we properly understand the measurements he's choosing to use. Making claims about figures "since the election" presents familiar problems for Full Fact since it's never clear whether the claimant is starting their measurement from the three months surrounding the election or the months before.
This is even more serious a problem when the time periods covered by the data precisely bisect the general election quarter, which means we can't entirely rely on the figures as they're being presented.
We aim for our factchecks to be as accurate and up-to-date as possible. If you think we've made an error or missed some relevant information, please email
team@fullfact.org
.