In brief
Claim
312 Conservative MPs voted against forcing rented homes to be made fit for human habitation. No Labour, Liberal Democrat or SNP MPs voted against it.
Conclusion
This is roughly correct—it was 309 Conservative MPs rather than 312. There are other regulations which compel landlords to deal with serious health and safety hazards, which weren't voted on here.
Following the tragic fire at Grenfell Tower in London on the 14th June some of our readers have asked us to factcheck how MPs have voted on the issue of making homes fit for human habitation, particularly the claim made in this tweet.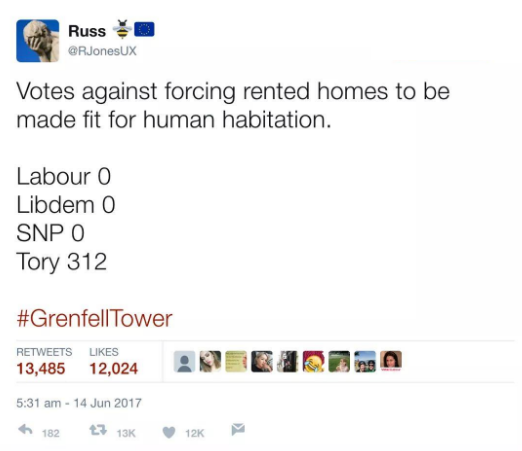 Currently, there aren't any specific rules in effect requiring private landlords in England to provide properties that are 'fit for human habitation'. Instead local authorities can force landlords to deal with serious health and safety hazards that pose risks to the people living in the property.
The government opposed a recent amendment that would have introduced such a rule for private rented properties, saying that it would add unnecessary regulation and cost to landlords, and ultimately higher rents for tenants.
There have been two attempts at putting rules ensuring that homes are fit for human habitation into legislation in recent years.
'Fit for human habitation'
In 2015 Labour MP Karen Buck introduced the Homes (Fitness for Human Habitation) Bill 2015/16. Its purpose was "to amend the Landlord and Tenant Act 1985 to require that residential rented accommodation is provided and maintained in a state of fitness for human habitation; and for connected purposes."
The bill was "talked out" meaning that it was not put to a vote and dropped.
The proposals were reintroduced in 2016 as an amendment to the Housing and Planning Bill 2015/16.
219 MPs voted in favour for the amendment which would have placed "a duty on landlords to ensure that their properties are fit for habitation when let and remain fit during the course of the tenancy." 312 voted against it and the amendment was defeated.
The tweet incorrectly says all 312 are Conservative MPs. Of those MPs who voted against it 309 were from the Conservative Party, one was from UKIP and two were from the Ulster Unionist Party.
Of those MPs who voted for it 205 were from Labour, six were from the Liberal Democrats, two were from the Democratic Unionist Party, two were from Plaid Cymru, two were from the Social Democratic and Labour Party, one was from the Green Party and one was an independent. The SNP did not vote on the bill.
Before the vote the government said that the amendment "will result in unnecessary regulation and cost to landlords, which will deter further investment and push up rents for tenants. Of course we believe that all homes should be of a decent standard, and that all tenants should have a safe place in which to live regardless of tenure, but local authorities already have strong and effective powers to deal with poor quality and unsafe accommodation, and we expect them to use them."
There are other regulations for housing standards
The powers councils have at the moment are granted under what's called the Housing Health and Safety Rating System (HHSRS). This isn't a pass or fail system of looking at a building, it judges houses, and their maintenance issues, depending on the risks they pose.
The assessment of these risks also varies depending on the type of occupants in the house and also by how the individual council interprets and enforces the rules.
The House of Commons Library says that the main arguments around introducing a minimum property standard for houses are:
Councils interpret the existing rules differently;
Councils enforce the existing rules differently, and;
Landlords concerns about over-regulation if more rules are introduced.
There are already "implied terms in a tenancy agreement that require landlords to let properties which are 'fit for human habitation'" under the Landlord and Tenant Act 1985. However these rules only apply to people who have an annual rent of less than £52 (or £80 in London) and have never been updated. The House of Commons Library describes them as "obsolete".
This act also sets out a landlord's responsibilities to ensure that the structure of a house or flat and its plumbing is in good repair (this does not depend on a maximum rent level).
If the state of your property affects the occupant's health then it is possible to have the council's environmental health officers look into it. The council can then compel the landlord to conduct the necessary repairs (if they are a private landlord or housing association). Those living in council houses can seek an independent assessment.
There are also specific pieces of legislation which focus on a landlord's responsibilities to ensure that gas appliances are maintained, that smoke and carbon monoxide alarms are installed and that tenants are protected from harmful things such as legionella.
Correction 27 June 2017
We previously said that the amendment proposed to the Housing and Planning Bill 2015/16 would only have applied to private lettings and not to council houses. This was incorrect, the amendment would have applied to both types.
Can you help protect this election from the influence of bad information? Support Full Fact
This election, clear, accurate facts won't always be a guarantee. False and harmful claims are spread every day by our public figures and media. Intentional or not, they have the power to shape the choices we make. We all deserve better than that.
That's why we're fighting to keep this election more honest and accountable. And we can't do it without you. In a fast-paced campaign, our supporters mean we can hold all candidates to the same three principles: get your facts right, back them up with evidence, and correct your mistakes.
Just a small monthly donation keeps us scrutinising the most harmful false claims around the clock, and challenging the people who make them.
If you, like us, don't want your vote to be influenced by bad information, can you help out?
---