In brief
Claim
Spending on disability benefits will be higher every year up to 2020 than it was in 2010.
Conclusion
Correct in cash terms. Taking inflation into account, there will still be a rise in spending, although not in each consecutive year.
"The government plans to cut support for people with long-term health difficulties by £30 a week"

Angus Robertson MP, 23 November 2016
"The overall funding for disability benefits will be higher in every year up to 2020 than it was in 2010"

Theresa May, 23 November 2016
Mr Robertson is referring to the planned reduction in Employment and Support Allowance for the 'work related activity group' of people who receive that benefit.
People in this group have been judged unable to work, but viewed as capable of returning to the workplace at some point in the future. From April 2017, new claimants will get £73.10 instead of the £102.15 per week that current claimants get. This is to bring the benefit in line with the Jobseeker's Allowance claimed by people who are unemployed and looking for work.
Mrs May was correct in her reply that spending on disability benefits overall will increase each year up to 2020. That is, if you look at the cash amount to be spent on disability benefits—the increase is slightly less consistent when you take inflation into account.
Figures compiled by the House of Commons Library show disability benefit spending in cash terms going from £17.1 billion in 2010/11 to £24.6 billion in 2020/21, rising each individual year in between.
But, in real terms, the increase over the decade is several billion smaller, and spending is forecast to drop back this financial year.
This won't take into account any changes to disability benefits announced at today's Autumn Statement.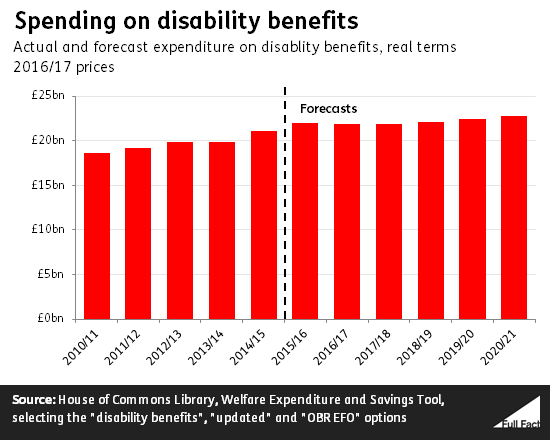 This factcheck is part of a roundup of Prime Minister's Questions. Read the roundup.
Full Fact wants to see greater accountability for public figures who mislead us—and we need your help.
Political debate in the UK is in flux right now. The UK's exit from the European Union is approaching, we will soon have a new prime minister and potentially a general election.
We want politicians to tell the truth, and while the best politicians realise that their work should be done honestly, some aren't taking their responsibilities seriously. Both sides in the EU referendum campaign let voters down, from deceptively designed leaflets to some of the arguments made on each side. The public rightly expects more from politicians.
We want to see greater accountability for public figures who mislead. Full Fact will continue to advocate for higher standards and call out those who don't uphold them.
But we rely on the generosity of our supporters to make sure we can spot the most harmful misinformation when we most need to.
Can you help us?
Support better public debate today.
---