In brief
Claim
More disabled people have entered the workplace during this government.
Conclusion
Correct. 3.5 million disabled people are in employment, compared to 2.9 million in 2013. The employment rate for disabled people has also increased from 44% to 49%.
"Over the time that we have been in government we have been seeing more disabled people get into the workplace"

Theresa May, 13 September 2017
This is correct.
The number of disabled people in work—aged between 16 and 64—has risen from 2.9 million in 2013 to 3.5 million this summer. The employment rate has also increased over that period from 44% to 49%. In other words, just under half of disabled people aged 16-64 are now in work.
2013 is the earliest comparable data we have. It's still correct comparing with May 2015 (when the Conservative party won a majority) and July 2016 (when Theresa May became Prime Minister).
A person is counted as disabled if they have a health condition lasting or expected to last a year or more that limits their ability to carry out day-to-day activities.
Over the same period the number of non-disabled people in work also increased but by a smaller proportion, from 25.8 million to 27.2 million. The employment rate for non-disabled people increased from 77% to 81%.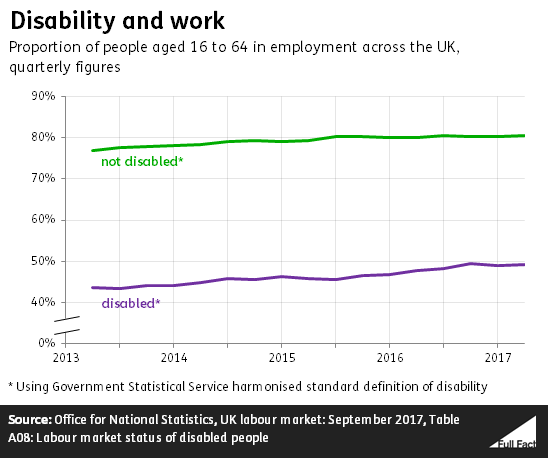 These numbers show us a net increase. They can't tell us exactly how many people have entered the workplace or left it.
There are older figures than 2013, but these aren't comparable to the latest set. In the older data, disabled means the person has a long term health condition which affects the amount or type of work they can do. The way people were asked about this changed at various points over the last decade.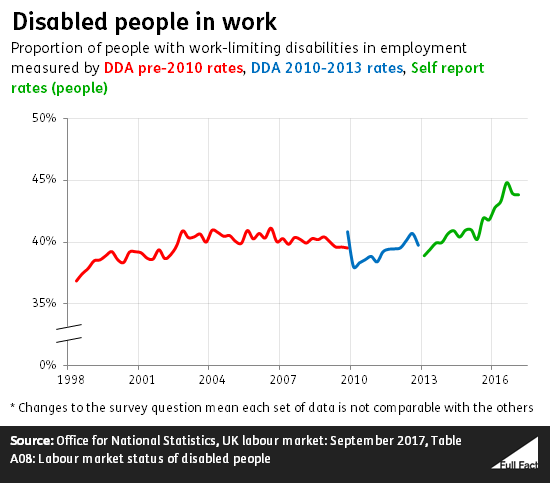 This factcheck is part of a roundup of Prime Minister's Questions. Read the roundup.
We need facts more than ever.
Right now, it's difficult to know what or who to trust. Misinformation is spreading. Politics and the media are being pushed to the limit by advancements in technology and uncertainty about the future. We need facts more than ever.
This is where you come in. Your donation is vital for our small, independent team to keep going, at the time when it's needed most. With your help, we can keep factchecking and demanding better from our politicians and public figures.We can give more people the tools to decide for themselves what to believe. We can intervene more effectively where false claims cause most harm.
Become a donor today and stand up for better public debate, on all sides, across the UK.
---