The so-called "cost of living crisis" has been the hot political issue of the autumn, with politicians of all stripes lining up to suggest way to bring down energy bills, transport costs and childcare expenses.
But could there be an easier way for government to help people feel richer? According to Conservative MEP Daniel Hannan, a tax cut might be more effective. Earlier this week he tweeted: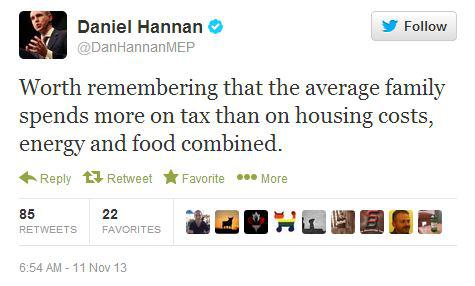 So what do we know about the size of the burden placed upon family finances by taxes compared to the sums spent on housing, heating and eating?
We've contacted Mr Hannan about the sources behind this claim but have yet to hear back. However there are a number of official datasets available that might help us to answer this question.
On the taxation side, the most widely used measure of the amount the average family pays in tax each year can be found in the Office for National Statistics' Effects of Taxes and Benefits on Household Income release. (We should point out here that while the term 'family' is often used as a proxy for what the ONS refers to as a 'household', the two are actually different: a household can include a group of people living together who are not related, or indeed a person living by themselves.)
According to the most recent data available, in 2011/12 the average household contributed £7,428 to the public purse through direct taxes (such as Income Tax) and a further £5,518 through indirect taxes (such as VAT).
How this compares to household expenditure on energy, food and housing depends to a degree upon which set of figures you choose. The ONS also publishes the findings of the Living Costs and Food Survey, and according to this the average family in 2011 spent £63.30 per week on housing and heating, and a further £54.80 on food and (non-alcoholic) drink. This would give a total outlay of £6,141.20 per year, some way below the amount paid in direct taxes alone.
However this data might not fully capture all the costs we would typically associate with housing; for example, mortgage interest payments are not included in the total. We could alternatively use the government's Households Below Average Income series, which includes a more expansive definition of housing costs, incorporating mortgage interest payments and water costs, among other things.
Using these figures suggests that average housing costs alone total £60 per week - or £3,120 per year - which coupled with the average dual fuel bill calculated by Ofgem (£1,320 per year) and the food expenditure from the Living Costs and Food Survey gives a total of £7,289.60 per year, still some way short of the average direct tax contribution per household.
Daniel Hannan's claim is therefore correct. However some might also argue that we could also factor in the benefits that tax expenditure provides to some households to help with housing and heating in particular, through schemes such as Housing Benefit, which the government spends £23.6 billion every year on.
The integrity of our elections is in danger, and we need your help
You're probably here looking for facts. Thank you for that trust. But with the EU parliament elections on the way and more elections a possibility, we need to act now to make sure our elections are protected, before it's too late.
Could you help protect our elections by becoming a Full Fact donor?
Misinformation isn't new, but advancements in technology mean it can spread at an unprecedented scale. Our dangerously outdated election laws have not kept up with the digital age, putting our next elections at risk of abuse.
Currently, it's possible for a candidate to run a thousand different political ads to win the same seat, promising something different to each group it targets. At the same time, there's no law requiring those who publish online campaigns to disclose who they are or how they are funded. The opportunity for bad actors to manipulate election results is left wide open.
You may already know about our work to make public debate online more honest and transparent. Every day, we call out the most harmful misinformation on social media platforms when and where we see it. But right now, we're urging the government to overhaul our election laws to make sure political campaigning is held to the same level of scrutiny online as it is offline.
This work all depends on the generosity of hundreds of people who all believe that for democracy to work, we need transparency. Our monthly donors help strengthen our voice, and show our politicians that this really matters. Would you consider joining them?
Become a donor today to make sure our elections are protected.
---