In brief
Claim
An overwhelming majority of the public would support renationalising the railways, according to a poll.
Conclusion
64% of the 1,500 adults polled in June 2018 said they would support renationalising the railways. 19% said they would oppose it, and 17% said they didn't know. The results are similar to other polls done on the question.
"An overwhelming majority of the public would support renationalising the railways amid cancellations, delays and complaints of poor service from private rail operators, a new poll reveals."

The Independent, 10 June 2018
64% of adults in Great Britain told a survey they would support the renationalisation of the railways. The remaining 36% said they would either oppose it, or that they didn't know.
Our survey said…
In a survey of around 1,500 adult in Great Britain, pollster BMG asked: "Would you support or oppose re-nationalising the railways so they are not run by private companies but run in the public sector?" 64% of people said they would support it, and 19% said they would oppose. 17% said they didn't know. The survey was commissioned by the Independent.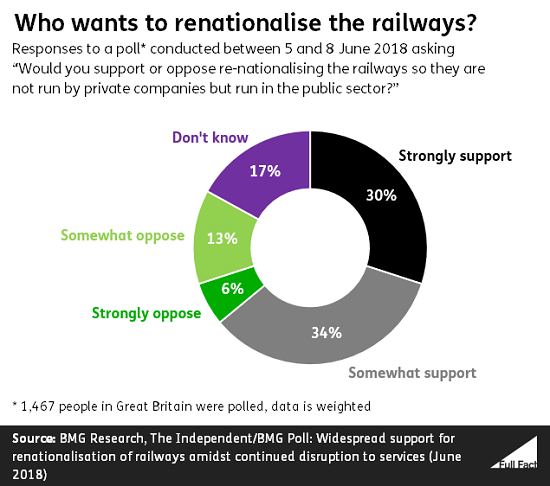 They asked just under 1,500 people of various ages and voting intentions, then weighted the results to reflect the general population.
Those surveyed were also asked: "In your view, has the privatisation of Britain's railways been a success or failure?" 56% said it had been a failure, 16% said it had been a success, 18% said it was neither a success nor a failure, and 10% said they didn't know.
The poll was conducted between 5 and 8 of June, during which delays and cancellations for commuters using certain Northern and Govia Thameslink Railway routes were being widely reported. The day before, on 4 June, transport secretary Chris Grayling said passengers on these franchises were "facing totally unsatisfactory levels of service" following timetable changes.
The pollster BMG said: "These findings could be the result of the perception of poor rail, but readers should be aware that a majority of respondents will not use trains regularly, and so there is a distinct possibility that the results will have been influenced by negative public discourse surrounding rail travel in the media at the moment."
The survey also asked people how frequently they'd travelled by train in the last three months. Those who had used trains in that time were slightly more likely to say they supported renationalising (65%) than those who hadn't (63%).
Those who hadn't used trains recently were more likely to say they weren't sure (22%) than those who had (13%). They were also more likely to say they opposed renationalising the railways (22%) than those who hadn't (15%).
Polls usually give this result
In 2017, polling company YouGov polled just under 2,000 adults in Great Britain on whether they thought certain industries should be "nationalised and run in the public sector, or privatised and run by private companies".
60% said railway companies should be run in the public sector, 25% they should be run by the private sector, and 15% said they didn't know. In 2014, a similar poll by YouGov found that 60% said they would support renationalising the railways and 20% would oppose. 
It also found similar results when polling the public in 2013.
Who owns the railways?
Before 1994, in England, Scotland and Wales, the rail industry, including infrastructure, passenger and freight services were run by a single publicly owned company—British Rail.
When the railways were privatised, British Rail was divided into Railtrack, which owned and managed infrastructure and was sold to the private sector, and a residual company to run services before they were sold or franchised.
Railtrack eventually went into administration and Network Rail took over in 2002. 
Network Rail runs tracks, signals, level crossings, bridges and tunnels, devises the national rail timetable, and manages 20 major railway stations. It's a public company, "answerable to the Department for Transport and Transport Scotland."
Passenger (and freight) trains are owned and run by train operating companies. They apply for franchises to run particular routes from the Department for Transport.
You can read more about who owns the train operating companies here. The House of Commons Library has also produced a briefing looking at ownership of the railways.
Can you help protect this election from the influence of bad information? Support Full Fact
This election, clear, accurate facts won't always be a guarantee. False and harmful claims are spread every day by our public figures and media. Intentional or not, they have the power to shape the choices we make. We all deserve better than that.
That's why we're fighting to keep this election more honest and accountable. And we can't do it without you. In a fast-paced campaign, our supporters mean we can hold all candidates to the same three principles: get your facts right, back them up with evidence, and correct your mistakes.
Just a small monthly donation keeps us scrutinising the most harmful false claims around the clock, and challenging the people who make them.
If you, like us, don't want your vote to be influenced by bad information, can you help out?
---