"Britain spends more on subsidising childcare than just about any other European country"
The Daily Telegraph, 7th January 2012
While MPs from both sides of the house complain that childcare is unaffordable for many parents and as child benefit for higher earners is slashed, we might be surprised to learn that compared to other countries in Europe the UK government is a generous subsidiser of childcare.
The source of this claim is data from the Organisation of Economic Cooperation and Development (OECD) which ranks the UK in a list of countries for GDP spending on early years childcare (for children not yet 3 years old).
We can see that in a comparison of European countries dating from 2009, the UK is near the top of the league table for childcare spending as a percentage of GDP. This is the case even though it spends less than half as much on childcare as Iceland, which boasts the highest level of expenditure in the OECD.
The UK may be above the European average (0.3% of GDP), but the mean is artificially low because of the number of (mainly Eastern European) countries that at the time of the survey allocated no resources to childcare spending.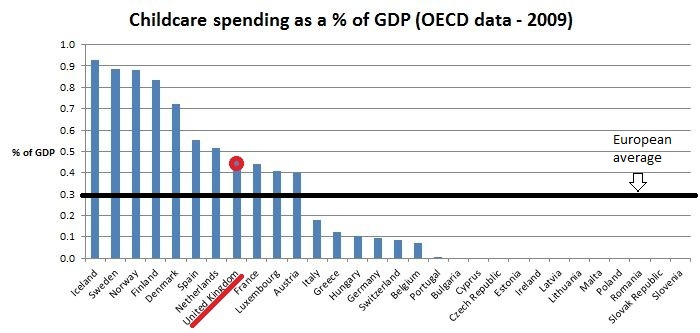 However, once we factor in spending on pre-primary education (children aged 3 to 5 years) in addition to childcare expenditure, we can see that the UK is in a slightly better position - still above the average spend in Europe, and now in the top five.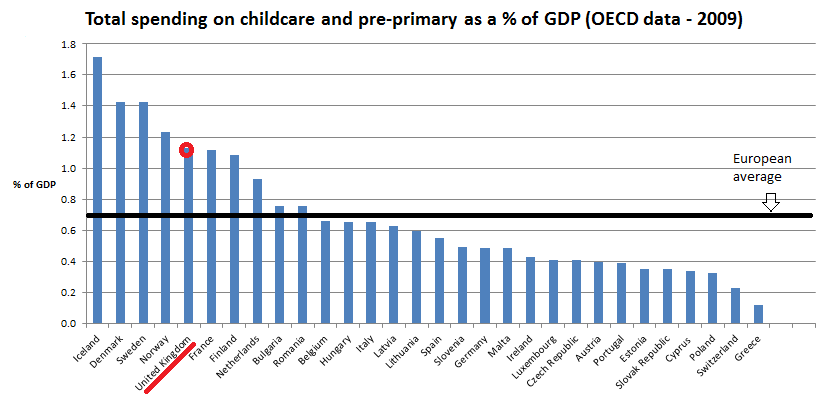 It's worth noting that these numbers are now probably out of date. Since the global recession public spending priorities have changed - not just in the UK, but across Europe. The OECD notes that between 2003 and 2007 the UK "strengthened its position as one of the biggest investors in families in the OECD", but that the recent programme of government cuts might endanger this progress.
How does the government subsidise childcare?
The government supports parents with the cost of raising a child by providing 15 hours of free childcare per week for 3 and 4 year olds (some 2 year olds are also eligible). In addition, parents in employment may be entitled to child tax credits - up to £122.50 for one child, or up to £210 per week for two or more children. 
All three political parties, along with various think tanks and quangos, have argued for the importance of state investment in childcare, both to enable parents to remain in (or return to) the workforce and to improve children's chances in life.
However, an increase in the government subsidy doesn't necessarily mean that childcare is more affordable for parents. The UK government only guarantees a certain number of hours of free childcare or to meet a set level of costs. For any extra expense, a parent must meet the price set by the market. 
For many families in the UK, it will be of little relevance that the UK government compares favourably with other European nations for state investment in childcare. Instead, it may be more valid to ask in what way this money might best be spent rather than how much of it there is.
Politicians shouldn't get away with misleading us—can you help?
As the UK's independent factchecking charity, Full Fact relies on our supporters' generosity to hold public figures to account and push for higher standards of debate.
But with a new prime minister on the way, and the possibility of a general election, we need your help more than ever to ensure that everyone can get the facts they need, on the issues that matter most.
---