In brief
Claim
The roads in north Wales are better than in Buckinghamshire.
Conclusion
In Buckinghamshire, 4% of A roads, and 5% of B and C roads are in poor condition. In Gwynedd in North Wales, 11% of A, B and C roads are in poor condition. We don't know if these figures are directly comparable.
"[The roads in north Wales are] much better than in Buckinghamshire... the truth is, our road repairs have been very, very bad and it is deteriorating."

Dominic Grieve MP, 14 June 2018
It's possible Mr Grieve was speaking from personal experience when he criticised the condition of Buckinghamshire's thoroughfares. That said, statistics do exist on the quality of roads in England and Wales—we're trying to find out how comparable the two sets of figures are.
Buckinghamshire
Maintenance needed to be considered on 4% of Buckinghamshire's A roads in 2016/17, according to the Department of Transport. 5% of the county's B and C roads were designated as roads where maintenance should be considered.
Across the whole of England, the figure that year for A roads was 3% and for B and C roads, it was 6%.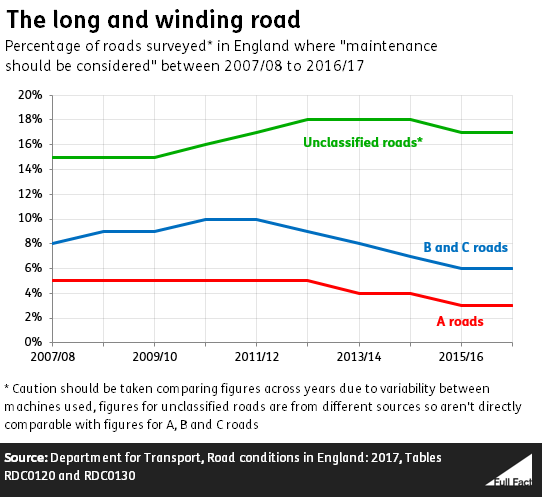 This data is collected using a number of automated road condition survey machines, called SCANNER vehicles, and there can be variability between results from each machine machine, so caution should be taken when comparing the figures across years. The Department of Transport specifies that each year at least two fifths of roads need to be surveyed, the exact figures vary slightly depending on the type of road.
Rather than specifically recording whether or not there are potholes in a road, the machines look for various levels of deterioration.
A slightly different type of survey is done to check unclassified roads. These are "local roads intended for local traffic", and make up 60% of the UK's thoroughfares. In 2016/17, the survey found maintenance should be considered on 28% of Buckinghamshire's unclassified roads.
Wales
In Gwynedd, North Wales—where Question Time was this week—11% of A, B and C roads were "in poor condition" in 2016/17. That figure for the whole of Wales was just under 11%.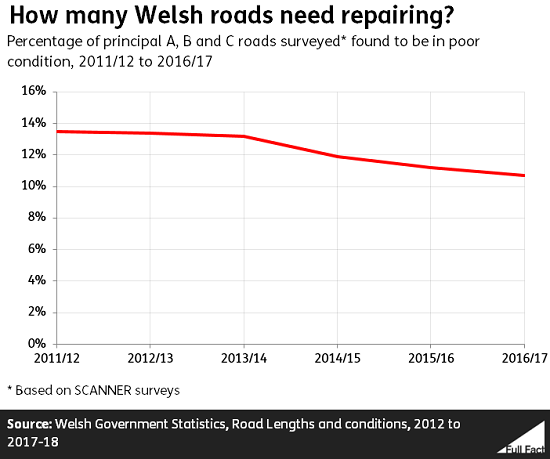 Although the two countries phrase it slightly differently, both figures are for roads that have scored RED (100 or higher) on the SCANNER survey. They are comparing roads differently—for England the figures are split into A roads, B and C roads, then unclassified roads, while the Welsh figures group A, B and C roads together.
We've asked the Welsh government for more information on how comparable the figures between England and Wales are.
This factcheck is part of a roundup of BBC Question Time. Read the roundup.
Full Fact wants to see greater accountability for public figures who mislead us—and we need your help.
Political debate in the UK is in flux right now. The UK's exit from the European Union is approaching, we will soon have a new prime minister and potentially a general election.
We want politicians to tell the truth, and while the best politicians realise that their work should be done honestly, some aren't taking their responsibilities seriously. Both sides in the EU referendum campaign let voters down, from deceptively designed leaflets to some of the arguments made on each side. The public rightly expects more from politicians.
We want to see greater accountability for public figures who mislead. Full Fact will continue to advocate for higher standards and call out those who don't uphold them.
But we rely on the generosity of our supporters to make sure we can spot the most harmful misinformation when we most need to.
Can you help us?
Support better public debate today.
---