Factcheck: Has the budget deficit been halved?
16th Dec 2014
Claim
The government has 'cut the deficit in half'.
Conclusion
The deficit as a percentage of GDP this year is forecast to be half its 2009/10 value, but this is not the case for the absolute value of the deficit.
"Already we have cut the deficit in half, and we have set out clear steps to finish the job by 2018."—David Cameron
The Prime Minister's claim to have halved the deficit in a speech yesterday follows on from George Osborne saying something similar when he delivered his Autumn Statement.
The Chancellor claimed that "I can report ... today a deficit that is half what we inherited.". He went on to clarify this, saying that "As a percentage of GDP, today the deficit is also forecast to fall this year, down by 0.6% of GDP ... the deficit no longer down by a third—but now cut in half."
It's correct that the deficit relative to GDP is expected to be half of its 2009/10 peak by the end of this financial year, but it's not the case that the deficit will have halved in absolute terms.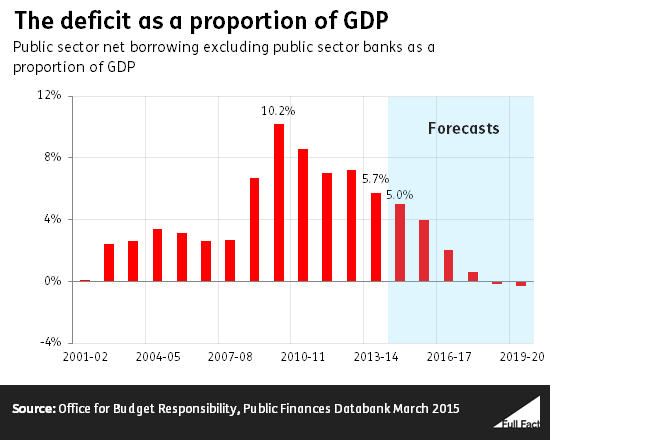 But as the Office for Budgetary Responsibility points out, the headline measure of the deficit is 'public sector net borrowing excluding public sector banks'—the absolute rather than relative figure.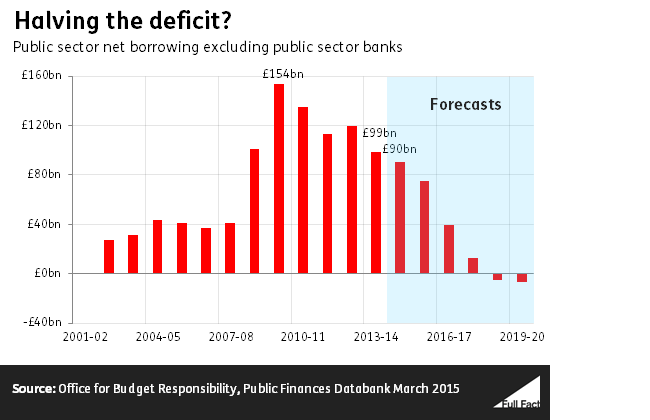 The Conservative press office confirmed to us that Mr Cameron was referring to the budget deficit relative to GDP.
This measure is useful when we're talking about the affordability of public spending. The British government can better afford to borrow an additional £1 billion than a country with a smaller economy can: the loan is a smaller proportion of the UK's national income.
However, the chosen headline measure of the deficit is its absolute value.
It would be helpful if politicians could avoid loose references to 'the deficit' without clarifying which measure is being used.
Update 05/02/2015
It has been pointed out to us that the original description of the deficit ("the borrowed sum that must be paid back") could be confusing, and as such the wording of the article has been altered accordingly. Individual gilt issues have to be repaid when they come due, but this is frequently achieved by issuing new debt (which has no effect on public sector net debt). Our thanks to Jonathan Portes for his input.