In brief
Claim
The government has 'cut the deficit in half'.
Conclusion
The deficit as a percentage of GDP this year is forecast to be half its 2009/10 value, but this is not the case for the absolute value of the deficit.
"Already we have cut the deficit in half, and we have set out clear steps to finish the job by 2018."—David Cameron
The Prime Minister's claim to have halved the deficit in a speech yesterday follows on from George Osborne saying something similar when he delivered his Autumn Statement.
The Chancellor claimed that "I can report ... today a deficit that is half what we inherited.". He went on to clarify this, saying that "As a percentage of GDP, today the deficit is also forecast to fall this year, down by 0.6% of GDP ... the deficit no longer down by a third—but now cut in half."
It's correct that the deficit relative to GDP is expected to be half of its 2009/10 peak by the end of this financial year, but it's not the case that the deficit will have halved in absolute terms.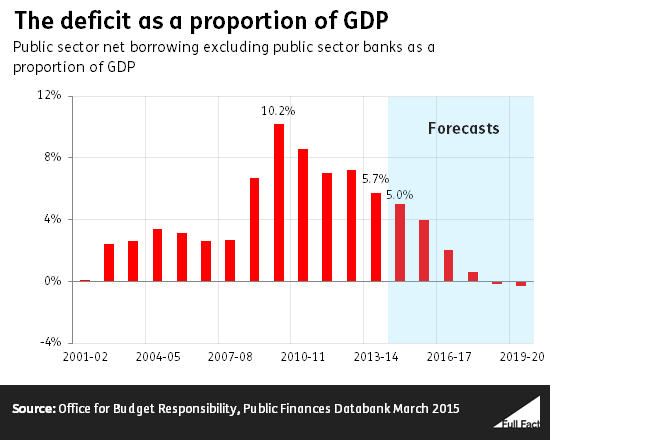 But as the Office for Budgetary Responsibility points out, the headline measure of the deficit is 'public sector net borrowing excluding public sector banks'—the absolute rather than relative figure.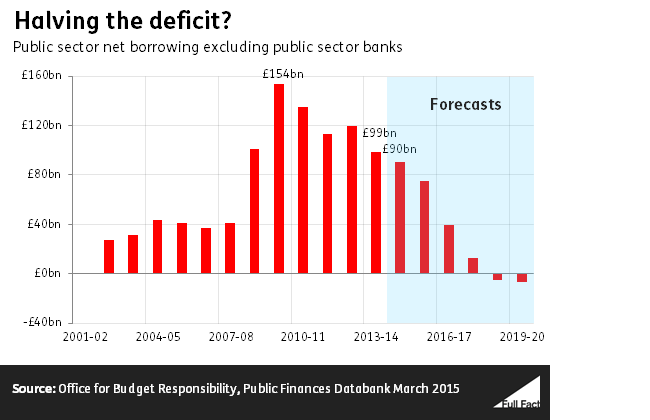 The Conservative press office confirmed to us that Mr Cameron was referring to the budget deficit relative to GDP.
This measure is useful when we're talking about the affordability of public spending. The British government can better afford to borrow an additional £1 billion than a country with a smaller economy can: the loan is a smaller proportion of the UK's national income.
However, the chosen headline measure of the deficit is its absolute value.
It would be helpful if politicians could avoid loose references to 'the deficit' without clarifying which measure is being used.
Update 05/02/2015
It has been pointed out to us that the original description of the deficit ("the borrowed sum that must be paid back") could be confusing, and as such the wording of the article has been altered accordingly. Individual gilt issues have to be repaid when they come due, but this is frequently achieved by issuing new debt (which has no effect on public sector net debt). Our thanks to Jonathan Portes for his input.
The integrity of our elections is in danger, and we need your help
You're probably here looking for facts. Thank you for that trust. But with the EU parliament elections on the way and more elections a possibility, we need to act now to make sure our elections are protected, before it's too late.
Could you help protect our elections by becoming a Full Fact donor?
Misinformation isn't new, but advancements in technology mean it can spread at an unprecedented scale. Our dangerously outdated election laws have not kept up with the digital age, putting our next elections at risk of abuse.
Currently, it's possible for a candidate to run a thousand different political ads to win the same seat, promising something different to each group it targets. At the same time, there's no law requiring those who publish online campaigns to disclose who they are or how they are funded. The opportunity for bad actors to manipulate election results is left wide open.
You may already know about our work to make public debate online more honest and transparent. Every day, we call out the most harmful misinformation on social media platforms when and where we see it. But right now, we're urging the government to overhaul our election laws to make sure political campaigning is held to the same level of scrutiny online as it is offline.
This work all depends on the generosity of hundreds of people who all believe that for democracy to work, we need transparency. Our monthly donors help strengthen our voice, and show our politicians that this really matters. Would you consider joining them?
Become a donor today to make sure our elections are protected.
---