Factcheck: The minimum wage has not been going up in real terms
15 October 2014
"the minimum wage under this Government is going up, and going up in real terms"

David Cameron, Prime Minister's Questions, 15 October 2014
Amidst yesterday's furore over comments made by welfare minister Lord Freud about disabled people and the minimum wage, the Prime Minister made a contentious claim of a different sort.
This month the minimum wage (for over-21s) rose faster than prices - a 'real terms' increase - but that's one small part of a bigger story. Since 2010, the minimum wage after inflation has been on a downward trend.
At the time of the 2010 election the minimum wage was worth anything from £6.51 to £6.68 - depending on the measure of inflation - in today's prices. It's now £6.50.
The minimum wage rises once a year in October on the recommendations of the Low Pay Commission. But prices rise continuously throughout the year. That's the story of the graph below: occasional jumps when the wage rises once a year, followed by slow deterioration as prices rise. Since the election, the jumps haven't compensated for rising prices, so the trend in real terms is falling. In other words, the minimum wage can buy less now than it used to.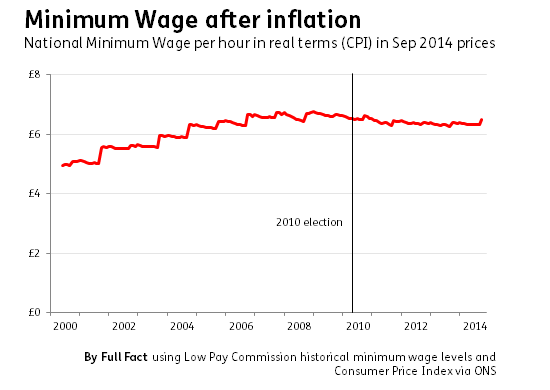 [The October rise this year is compared to September's inflation as we don't have CPI inflation for October yet]
Read in that way, the Prime Minister's comment clearly isn't describing the story of the minimum wage under the current government. It's not generally "going up in real terms".
That said, the minimum wage did rise ahead of prices this month. The government's acceptance of this year's recommendation to raise the wage from £6.31 to £6.50 an hour does represent a real terms increase for the first time since October 2007: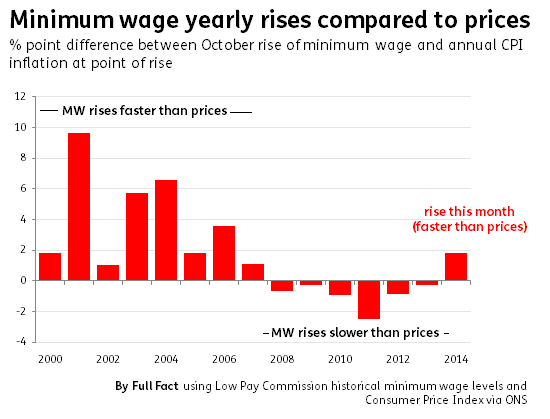 So the Minimum Wage is set to go up in real terms now, and the government has also said in its interim evidence for next year's rise:
"As the economy continues to recover, the Government's ambition is to increase the real value of the National Minimum Wage."
We'll have to wait and see if that ambition meets reality.
Correction (23 October 2014)
The original version of this article misstated the value of the minimum wage had it risen in line with inflation since the election due to a calculation error. We've rectified this and sorry for the mistake.