In brief
Claim
The gender pay gap is at its lowest level.
Conclusion
Broadly correct.
"The gender pay gap is at its lowest level."

Claire Perry, 8 February 2018
This is broadly correct, comparing the median hourly earnings of women and men in the UK, excluding overtime pay. The gap has been falling almost consistently over time, although there was a slight increase in the provisional data for 2017.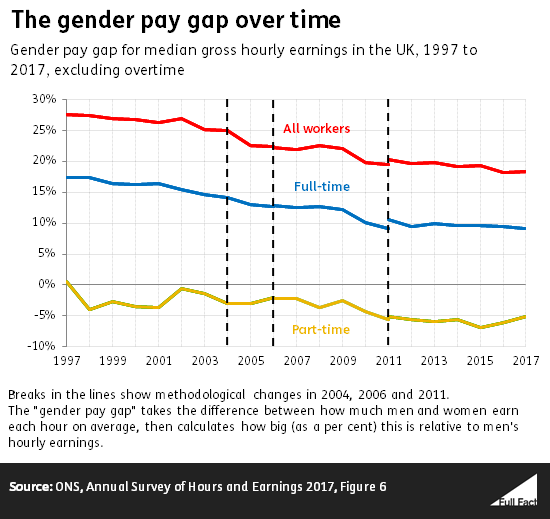 These figures don't show differences in rates of pay for comparable jobs, as they are affected by factors such as the proportion of men and women in different occupations. For example, a higher proportion of women work in occupations such as administration and caring, which tend to offer lower salaries.
The Office for National Statistics says there isn't a single number that adequately deals with all the issues surrounding differences between women and men's pay, but they prefer to look at this measure of median hourly earnings.
We looked at this issue in more depth last year.
This factcheck is part of a roundup of BBC Question Time. Read the roundup.
With Brexit fast approaching, reliable information is crucial.
If you're here, you probably care about honesty. You'd like to see our politicians get their facts straight, back up what they say with evidence, and correct their mistakes. You know that reliable information matters.
There isn't long to go until our scheduled departure from the EU and the House of Commons is divided. We need someone exactly like you to help us call out those who mislead the public—whatever their office, party, or stance on Brexit.
Will you take a stand for honesty in politics?
---