In brief
Claim
Funding for rail companies today is four times what British Rail got in the 1970s and 80s.
Conclusion
Government support to the rail industry is roughly three times what it was at the end of the 1980s, varying year to year. We haven't seen earlier figures.
"I just wanted to make the point about the railways, in terms of my understanding is that the railway companies, the private ones, receive four times as much funding as British Rail did in the 1970s and 80s."

BBC Question Time audience member, 11 May 2017
This is the right order of magnitude. Figures we've seen indicate it's now about three times what it was at the end of the 1980s, although these don't include loans to Network Rail.
Britain's privatised railways have been getting around £5 billion on average in government support over the last five years. In the last five years of the 1980s—the earliest period we have figures for before privatisation—it was an average of £1.6 billion in today's money.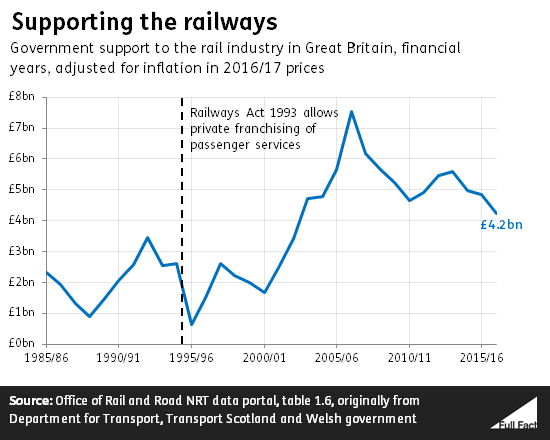 As the chart above shows, government support can vary a lot from year to year, often because of big one-off projects, which is why we've used five-year averages. The figures for 2015/16, for example, include £800 million to build London's new Crossrail line, and in 2016/17 the figures include over £800 million for HS2.
Government support for the rail industry isn't the same thing as public spending on rail. In 2016/17 as much as £15 billion was spent on railways in total. Part of that seems to be down to how Network Rail—the government-owned manager of the railway—is funded. The government paid £5.7 billion worth of loans to Network Rail in 2016/17, which isn't included in the government support figures.
Network Rail used to be considered a private sector company, but it's now classed as public sector, and so now borrows money directly from the government.
The context of the discussion was about whether railways should be nationalised, as was suggested in the leaked draft of Labour's manifesto. But we can't draw too many conclusions about what effect privatisation has had on costs from these figures. For a start, we'd want to know what might have happened to government support if franchising had never happened. Going into detail on that is outside the scope of this factcheck.
It's still worth bearing in mind that we've never been using the railways more, and this clearly has an impact on the amount of funding the system needs to cope.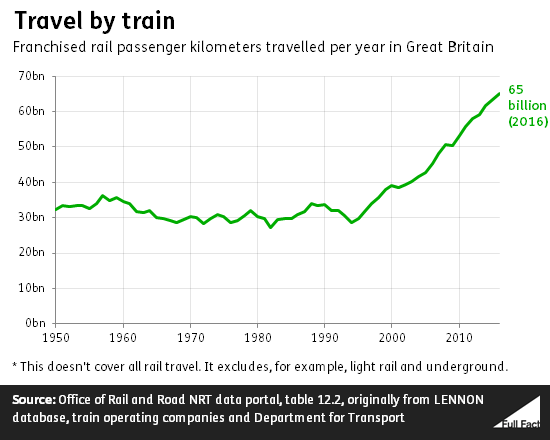 Update 7 December 2017
This article has been updated to include the latest available statistics on government rail expenditure.
This factcheck is part of a roundup of BBC Question Time. Read the roundup.
The integrity of our elections is in danger, and we need your help
You're probably here looking for facts. Thank you for that trust. But with the EU parliament elections on the way and more elections a possibility, we need to act now to make sure our elections are protected, before it's too late.
Could you help protect our elections by becoming a Full Fact donor?
Misinformation isn't new, but advancements in technology mean it can spread at an unprecedented scale. Our dangerously outdated election laws have not kept up with the digital age, putting our next elections at risk of abuse.
Currently, it's possible for a candidate to run a thousand different political ads to win the same seat, promising something different to each group it targets. At the same time, there's no law requiring those who publish online campaigns to disclose who they are or how they are funded. The opportunity for bad actors to manipulate election results is left wide open.
You may already know about our work to make public debate online more honest and transparent. Every day, we call out the most harmful misinformation on social media platforms when and where we see it. But right now, we're urging the government to overhaul our election laws to make sure political campaigning is held to the same level of scrutiny online as it is offline.
This work all depends on the generosity of hundreds of people who all believe that for democracy to work, we need transparency. Our monthly donors help strengthen our voice, and show our politicians that this really matters. Would you consider joining them?
Become a donor today to make sure our elections are protected.
---