In brief
Claim
Over 2.5 million people now officially live in energy poverty.
Conclusion
This is an underestimate: almost 3.7 million households may be living in some form of fuel poverty across the UK, although the data is not directly comparable due to differences in how it is measured.
Theresa May u-turned on a pre-election promise to cap energy bills.
Incorrect. The government did introduce a bill that would allow for energy price caps as promised. At the moment it's progressing through parliament.
Claim 1 of 2
"SPOT THE DIFFERENCE
Theresa May making a pre-election promise to put a cap on energy bills to protect hard up families from the big 6 energy firms

Over 2.5 million people now officially living in energy poverty because Theresa May u-turned on her energy cap promise"

Viral graphic, 27 June 2018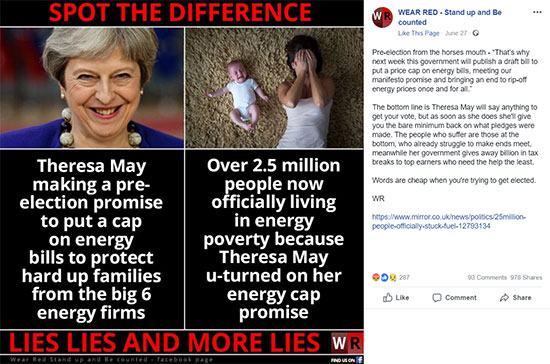 It's wrong to say the government has u-turned on its pre-election pledge to introduce caps on energy prices. The legislation to allow this was introduced by the government and is currently completing its passage through parliament.
The number of people living in fuel poverty is actually much higher than the claimed 2.5 million people. Almost 3.7 million households (not people) may be living in some form of fuel poverty across the UK—but fuel poverty is measured differently in England, Scotland, Wales and Northern Ireland, and the most recent available data is from 2016.
That also means the data also isn't up-to-date enough to tell us how the number of households in fuel poverty has changed under Theresa May's government.
What is fuel poverty?
Fuel poverty is a measure of households that struggle to pay for their energy costs, particularly with regard to heating. It's currently measured differently in the UK's four nations.
In England, a household is considered fuel poor if its required energy costs are above the national average, and paying that amount would push their remaining income below the official poverty line. In Scotland, Wales and Northern Ireland, a household is fuel poor if they would need to spend more than 10% of their income on fuel costs in order to satisfactorily heat their home.
The latest available data shows that roughly 2.6 million households in England were in fuel poverty in 2016; 649,000 households in Scotland in 2016; an estimated 291,000 households in Wales in 2016; and an estimated 160,000 households in Northern Ireland in 2016.
In England, which has the most consistent long-term data, trends show that since 2003 the percentage of households in fuel poverty has fluctuated between 10.5% and 11.9%. Meanwhile the average fuel poverty gap (the amount by which households in fuel poverty fall short of the threshold for not being fuel poor) widened in real terms until 2011, but has since narrowed slightly.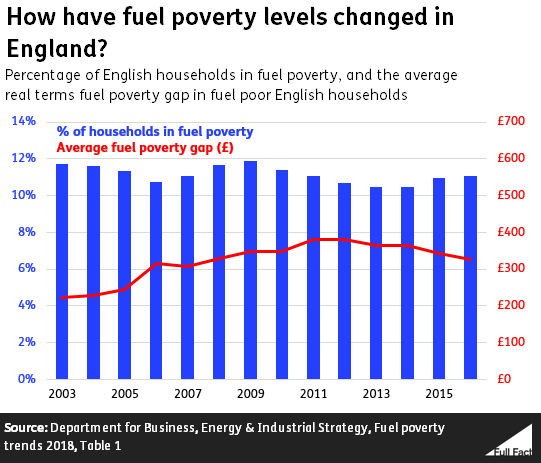 As the most recent data is from 2016, it's not possible to say how fuel poverty levels have changed under the Conservative government led by Theresa May, who became Prime Minister in July 2016.
The government did introduce its promised legislation
The 2017 Conservative manifesto included a pledge to introduce "a safeguard tariff cap to protect energy customers from unacceptable rises". At the Conservative Party conference in October 2017, Theresa May said that "next week, this Government will publish a Draft Bill to put a price cap on energy bills."
The draft bill was published the following week. It was then formally introduced as a bill to MPs in February 2018, and has progressed through parliament since then. In July 2018, it received its third (and final) reading in the House of Lords. That means it now goes back to the Commons a final time for consideration of one amendment before it can receive Royal Assent and become law.
How do energy price caps work, and what will the new law do?
There are already some energy price caps in place for certain customers, which limit how much energy suppliers can charge per unit of energy. In England, Wales and Scotland, energy price caps are controlled by Ofgem, the energy markets regulator. In Northern Ireland, this function is carried out by a different body, the Utility Regulator, as energy policy is a devolved matter not under the control of the UK government.
In Great Britain, the price caps that Ofgem already imposes apply to all customers who use prepayment meters, and customers on default tariffs with low incomes who are eligible for the Warm Home Discount.
The new law would require Ofgem to introduce a temporary price cap (until 2020) for many more customers in England, Scotland and Wales—those on default tariffs and "Standard Variable Tariffs". It could exclude those on "green" tariffs, and those who already benefit from an already-existing price cap.
Additionally, Ofgem say that if the new tariff cap required by the bill can't be put in place by winter 2018, they are working on plans to extend the existing price caps to "an additional 2 million vulnerable customers".
We need facts more than ever.
Right now, it's difficult to know what or who to trust. Misinformation is spreading. Politics and the media are being pushed to the limit by advancements in technology and uncertainty about the future. We need facts more than ever.
This is where you come in. Your donation is vital for our small, independent team to keep going, at the time when it's needed most. With your help, we can keep factchecking and demanding better from our politicians and public figures.We can give more people the tools to decide for themselves what to believe. We can intervene more effectively where false claims cause most harm.
Become a donor today and stand up for better public debate, on all sides, across the UK.
---