Amid the week's Budget speculation there has been some talk of whether the Chancellor should cut the number of people paying the higher rate of income tax - 40p on every pound earned over the threshold (£41,450 in 2013-14, taking the personal allowance into account) and under £150,000.
The Today Programme's business and economics presenter, Simon Jack this morning commented that: "There's been a big increase in the number of people paying the top rate of tax - the 40% rate".
This is right (although it's not the highest rate). It's estimated that 4.4 million people paid the higher rate in 2013-14 and another 300,000 paid the additional rate of 45%. Back in 2009-10 there were 3.2 million paying the higher rate, and there wasn't any additional rate.
It's a growing trend long-term, and this isn't just because there are more taxpayers now. Back in 1990 barely 7% of taxpayers paid the higher rate (still 40% back then) whereas this year almost 15% have.
Our Budget guide out today has more.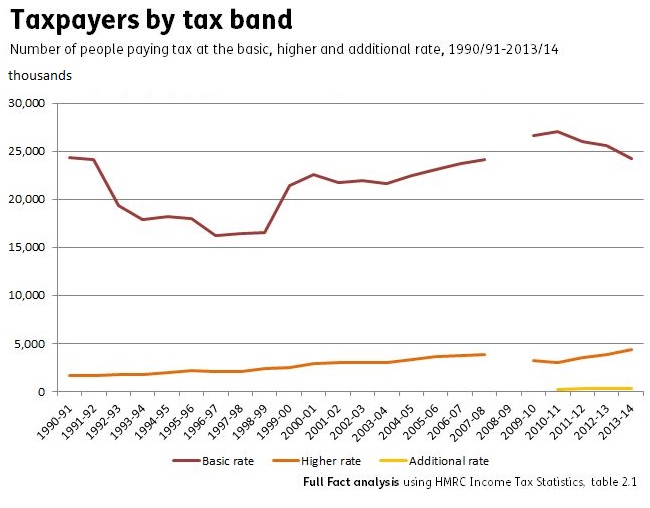 Update (19 March 2014)
The article now makes clear 40% is not the 'top' rate of tax.
With Brexit fast approaching, reliable information is crucial.
If you're here, you probably care about honesty. You'd like to see our politicians get their facts straight, back up what they say with evidence, and correct their mistakes. You know that reliable information matters.
There isn't long to go until our scheduled departure from the EU and the House of Commons is divided. We need someone exactly like you to help us call out those who mislead the public—whatever their office, party, or stance on Brexit.
Will you take a stand for honesty in politics?
---