Guardian and Mirror wrong about "huge surge" in zero hours contracts
1st May 2014
"Huge surge in workers tied to zero-hour deals" The Guardian, 1 May 2014

"Workers on unfair zero hours contracts have risen by 800,000 people in five months." The Mirror, 1 May 2014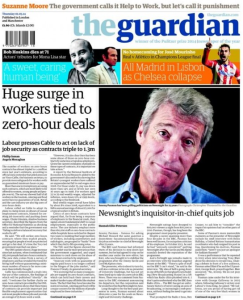 This morning's Guardian front page told readers that there had been a "huge surge" in the number of workers employed on controversial zero-hours contracts (those where neither employer nor employee are obliged to offer or work any minimum number of hours). Its online copy of the article fleshed out this 'surge', claiming that numbers had "almost tripled", while the Mirror also said that 800,000 more people were on these deals than were less than half a year ago.
As Full Fact reported yesterday, these figures represent the first time that the ONS has collected zero-hours contract data in this way, and there is therefore no way to know how large a rise there has been in their use, or even if there has been one at all. Older figures using a different methodology have recorded a smaller rise than the one reported today, but this may in part be influenced by more workers recognising that they are on a zero-hours contract in response to greater media coverage, rather than a rise in their actual use.
The ONS has also warned that these numbers refer to the number of contracts, not necessarily the number of workers.
It's difficult to tell if zero-hours contracts are on the rise
The figures released by the ONS yesterday were gathered by surveying a sample of 5,000 businesses about their use of zero-hours contracts. It found that there were approximately 1.4 million of these contracts in use across Great Britain.
It was the first time that data had been collected in this way, and came after the ONS had reviewed its data collection methods on zero-hours contracts precisely because it thought they were being under-reported. Previously, the number of zero-hours contracts was estimated by asking employees about the terms of their employment via the Labour Force Survey (LFS).
The "huge surge" noted by the Guardian and the Mirror is found be comparing the new business survey results with the older LFS methodology, which found that in 2013 there were 583,000 people on zero-hours contracts at the end of last year. The ONS is explicit that these sort of comparisons are not substantiated by the figures:
"Estimates from employers are likely to be higher than those from individuals for a number of reasons... It is not, therefore, possible to say from the business survey whether the number of employee contracts without a guaranteed minimum number of hours of work is increasing or decreasing."
Besides comparing data from the LFS - which was known to underestimate zero-hours contract use - with a survey designed to address this problem, there is a secondary problem with the 'rise' traced by the two papers.
While the LFS asked individuals about their employment conditions, the business survey that has given us these new figures asks businesses about contracts. Again, the ONS notes that counting contracts rather than people "will provide higher estimates (as one person can have more than one contract)."
We will be asking both the Guardian and Mirror to print corrections to these stories as quickly as possible.