In brief
Claim
The hardest hit by austerity have obviously been the most vulnerable in society.
Conclusion
That's correct according to various analyses of tax and benefit policies. But the poorest UK households have also seen their post-tax incomes rise faster than any other group since 2010.
"The hardest hit by austerity have obviously been the most vulnerable in society."

George the Poet, 4 October 2018
Poorer households have been more negatively affected by tax and benefit changes since 2010, but their incomes have also increased the most on average since 2010—by 12% in real terms between 2010/11 and 2016/17.
That's because the incomes of the poorest households have, on average, increased far more since 2010 than the negative impact of increased taxes and reduced benefits. Also many of the tax and benefit changes expected to affect poorer households (e.g. Universal Credit) have not yet been fully implemented.  
A report by the Equality and Human Rights Commission last year found that, in England, Wales, and Scotland, households in the bottom half of the income distribution lost more (in terms of net income) from tax and benefit changes since 2010 than those in the top 10%. Those in the bottom 11-40% lost the most on average.
In addition women, lone parents, ethnic minorities and households with a disabled member were typically hit harder  than other groups.
This is supported by analysis from the Institute for Fiscal Studies (IFS). It found that during the Coalition government, UK households with the bottom 40% of incomes were more negatively affected than the average household.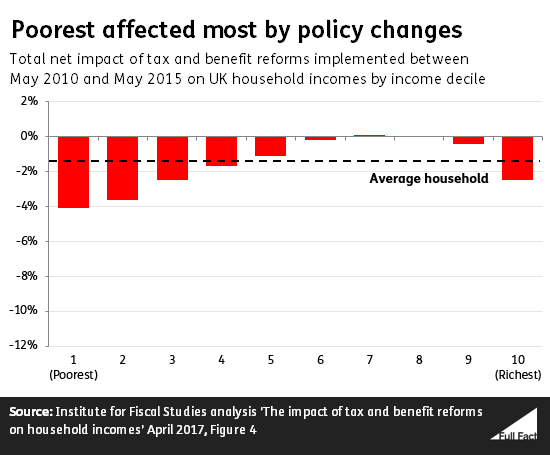 The IFS also estimates that the combination of policies implemented from May 2015 and those yet to be implemented will continue to impact poorer households more. The poorest 10% of households are projected to lose 10% of their income once all planned policies are implemented (though we don't know yet when all these policies—e.g. Universal Credit—will be fully implemented).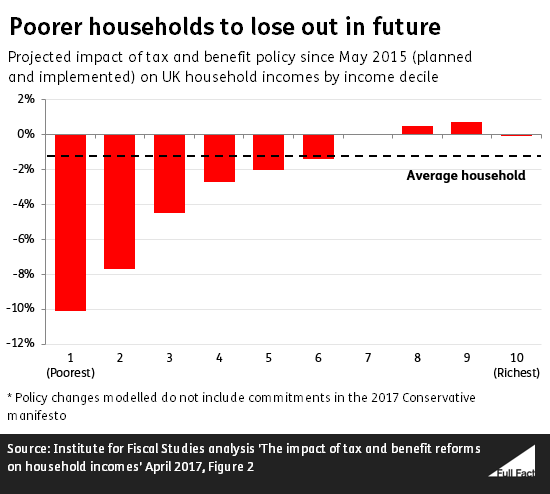 However this sort of analysis only looks at benefits and tax policy in isolation and doesn't examine the real experience of households. It also doesn't cover commitments in the 2017 Conservative election manifesto.
Data from the Office for National Statistics shows that between 2010/11 and 2016/17 (the latest year for which data is available) poorer UK households had bigger real-terms post-tax and benefit income rises than richer households.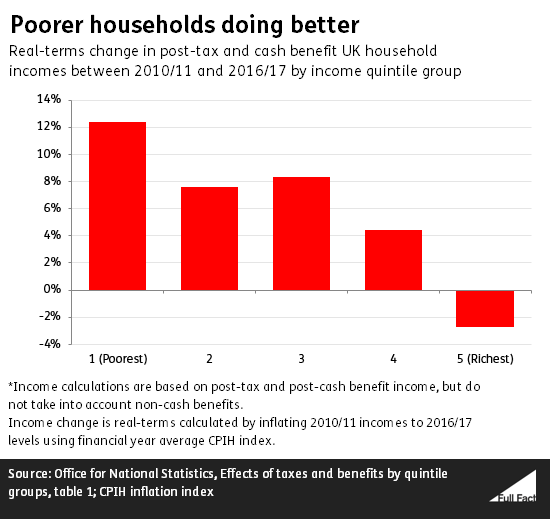 Income rises for the poorest households have more than offset benefit cuts and tax rises.
With Brexit fast approaching, reliable information is crucial.
If you're here, you probably care about honesty. You'd like to see our politicians get their facts straight, back up what they say with evidence, and correct their mistakes. You know that reliable information matters.
There isn't long to go until our scheduled departure from the EU and the House of Commons is divided. We need someone exactly like you to help us call out those who mislead the public—whatever their office, party, or stance on Brexit.
Will you take a stand for honesty in politics?
---