In brief
Claim
There has not been a recession, or 500,000 to 800,000 job losses since the EU referendum.
The Treasury said there would be 500,000 to 800,000 jobs lost in the case of a vote in favour of Brexit.
Mark Carney said there would be a recession in the case of a vote in favour of Brexit.
He said before the referendum vote that it was a possibility. He expected a "material slowing in growth", and that a recession was one of "a range of possible scenarios".
Claim 1 of 3
"He [Mark Carney] warned that there would be a technical recession, but that is a recession … he said that, he was completely wrong, the Treasury was worse, it said there would be between 500,000 and 800,000 jobs lost purely on a vote to leave, not actually anything happening, just on the vote"

Jacob Rees-Mogg, 26 October 2017
In May 2016, Mark Carney, Governor of the Bank of England, said: "we would expect a "material slowing in growth, a notable rise in inflation, a challenging trade-off" in the case of a Brexit vote. He added, "of course there's a range of possible scenarios around those directions, which could possibly include a technical recession".
In the same month, the Treasury said: "Britain's economy would be tipped into a year-long recession, with at least 500,000 jobs lost and GDP around 3.6% lower, following a vote to leave the EU, new Treasury analysis launched today by the Prime Minister and Chancellor shows."
"Recession" is a general term for a decline in economic growth over a period of at least a few months. A technical recession is two consecutive quarters of negative GDP growth.
GDP has actually grown in every quarter since the Brexit vote in June 2016. From July to September 2016, it grew by 0.5% compared to the previous quarter. In the full year since June 2016, GDP grew by 1.7%. Other EU economies have grown faster over that period.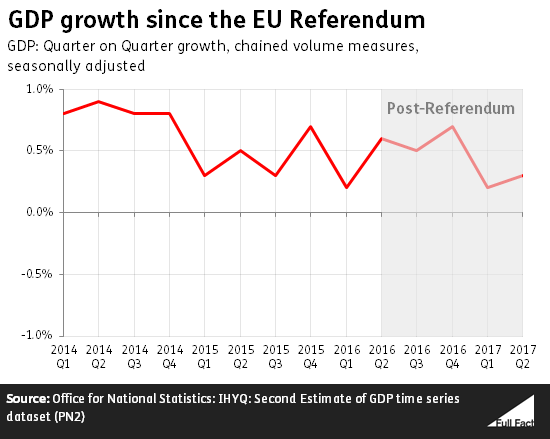 GDP has since grown by an estimated 0.4% from July to September this year.
There were also 317,000 more people in employment from June to August this year, compared with the same period in 2016.
Unemployment was at 4.9% in June 2016, rising to 5% in July. It has since steadily fallen to 4.3%, which is the lowest level since 1975.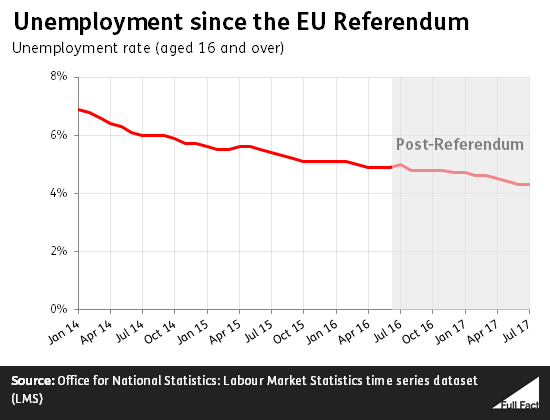 This factcheck is part of a roundup of BBC Question Time. Read the roundup.
We aim for our factchecks to be as accurate and up-to-date as possible. If you think we've made an error or missed some relevant information, please email
team@fullfact.org
.