In brief
Claim
Wages are lower today than they were ten years ago.
Conclusion
Yes, the official headline measure of median weekly wages for full time workers is lower than ten years ago.
"Yet she can't explain why people's wages are lower today than they were ten years ago..."

Jeremy Corbyn, 19 April 2017
The official headline measure of median weekly wages for full time workers is lower now than ten years ago.
Although the average worker is earning more money... it will buy them less. Wages have risen each year but prices have risen faster.
When prices rise it's called inflation. If you adjust wages for price inflation then you can see their 'real' value.
The real value of the median weekly wage for full time employees fell every year between 2008 and 2014.
It has grown again since 2014, although more recent published data suggests that the pace might have slowed over the past year.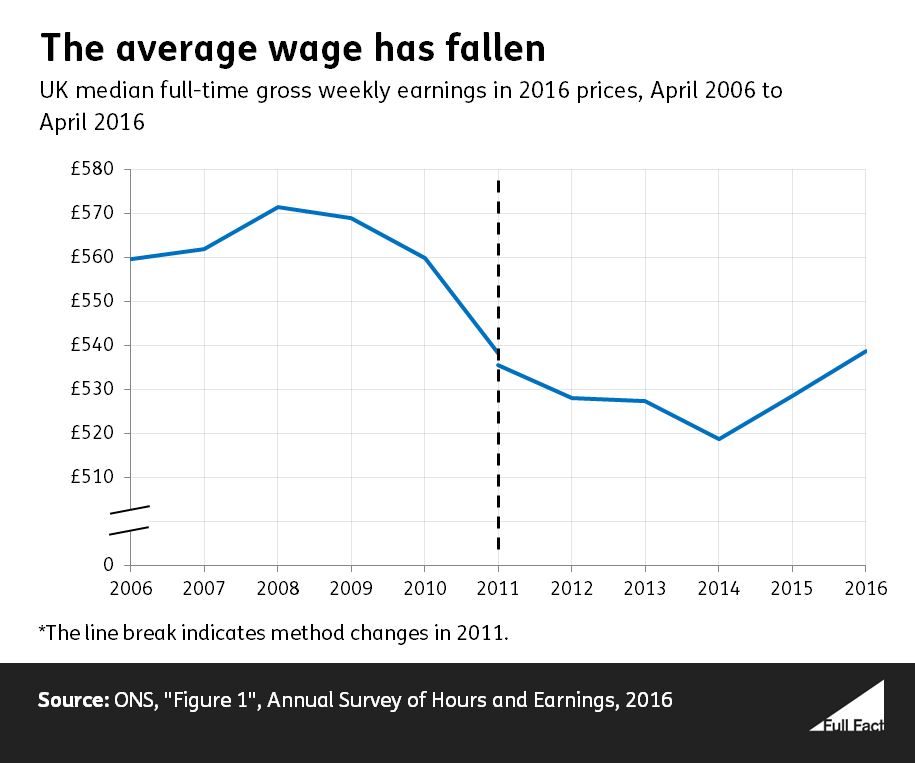 There are lots of different ways you could slice and dice the jobs market to see how earnings have changed. We've quoted median gross weekly earnings for full-time employees since that's the preferred headline measure used by Office for National Statistics.
The median wage is the wage of the middle-earning person. Among other things, focusing on median rather than mean average wage means that the picture isn't disproportionately affected by top earners.
More recent data is available for mean average wages. Broadly, the picture is much the same.
But it's still the national average across the UK as a whole. It might not match the view from specific regions, industries or age groups (for example) as the chief economist at the Bank of England discussed last June.
In theory, average wages could fall without any one person getting a pay cut, because new entrants might be getting less than before while older higher earners continue to retire. So these figures don't necessarily show what's happened to most people individually, but they do give a sense of what's happened overall.
This factcheck is part of a roundup of Prime Minister's Questions. Read the roundup.
The integrity of our elections is in danger, and we need your help
You're probably here looking for facts. Thank you for that trust. But with the EU parliament elections on the way and more elections a possibility, we need to act now to make sure our elections are protected, before it's too late.
Could you help protect our elections by becoming a Full Fact donor?
Misinformation isn't new, but advancements in technology mean it can spread at an unprecedented scale. Our dangerously outdated election laws have not kept up with the digital age, putting our next elections at risk of abuse.
Currently, it's possible for a candidate to run a thousand different political ads to win the same seat, promising something different to each group it targets. At the same time, there's no law requiring those who publish online campaigns to disclose who they are or how they are funded. The opportunity for bad actors to manipulate election results is left wide open.
You may already know about our work to make public debate online more honest and transparent. Every day, we call out the most harmful misinformation on social media platforms when and where we see it. But right now, we're urging the government to overhaul our election laws to make sure political campaigning is held to the same level of scrutiny online as it is offline.
This work all depends on the generosity of hundreds of people who all believe that for democracy to work, we need transparency. Our monthly donors help strengthen our voice, and show our politicians that this really matters. Would you consider joining them?
Become a donor today to make sure our elections are protected.
---