"What does the Prime Minister have to say to women across the country who are working full time and whose disposable incomes have fallen by an average of almost £2,500 since his Government came into office?"
Stephen Doughty MP at Prime Minister's Questions, 11 December 2013
"Women's real incomes have taken a battering. On average a woman working full-time has seen her disposable income drop by £2,500 since the election"
Gloria de Piero MP in the Telegraph, 6 December 2013
Even with a growing number of economic indicators turning in the government's favour, the cost of living remains an area of concern. If a £1,600 'bombshell' drop in real wages wasn't enough to stomach, it's also been pointed out that women's take-home pay has suffered since the Coalition came to office.
The claims actually aren't about 'disposable' income - the amount people earn after most taxes and benefits - at all. As Gloria de Piero's office confirmed to us, Labour's line is actually that women's wages are rising slower than prices.
Earnings and inflation figures from the ONS show this checks out. At the moment a typical full-time worker earns £24,000 a year. For men it's £26,000 on average, while women earn £21,000 each year.
Back in 2010, men earned the equivalent of £28,300 in today's money (if we use the Retail Price Index (RPI) measure of inflation that Labour is using). Women earned the equivalent of £23,500. So men are £2,300 worse off in terms of earnings and women £2,500 worse off, as was being alluded to in the Commons this week.
As we've mentioned previously, however, a lot depends on the measure of inflation chosen, and Labour have used one which results in a relatively large decline. The Consumer Price Index (CPI) - which is similar to RPI but doesn't include things like housing costs - shows women's 'real' earnings have fallen £2,000 since the election.
It's also a decline that predates the election. Real wages have been falling for both men and women since the start of 2008 - so the Coalition isn't alone in presiding over a real terms fall in wages. It's been happening fairly consistently for the past five years.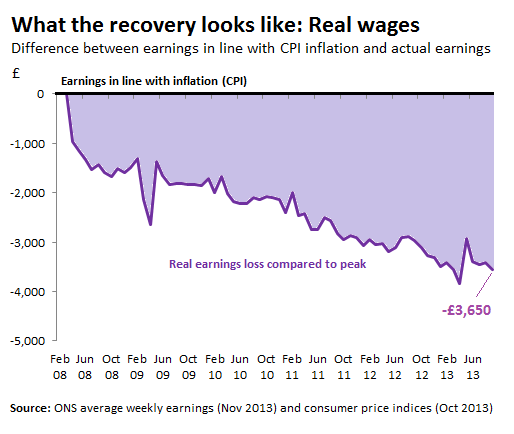 We aim for our factchecks to be as accurate and up-to-date as possible. If you think we've made an error or missed some relevant information, please email
team@fullfact.org
.