Is house building in Britain on the rise?
12 February 2014
"Housing starts are up from the dreadful situation we were left by the previous Government...We are fixing this problem and house building is rising."
David Cameron, Prime Minister's Questions, 12 February 2014

The government's Help to Buy scheme - aimed at increasing the borrowing options for aspiring first-time homeowners - has proved divisive since it launched last year, with some claiming it has been a great success while others warn that it is over-heating the market.
Perhaps unsurprisingly, Prime Minister David Cameron sits firmly in the former camp, and today rebuffed suggestions that a lack of supply was fueling house price rises by claiming that his government was overseeing an increase in house building.
Whether or not this is correct depends a great deal upon which statistics you look at, and how you interpret them.
The most recent figures available show that in the three months between July and September last year, building started on 32,230 homes (after the figures were seasonally adjusted). Unfortunately there isn't a neat way to compare this to 'the situation left by the previous government' as the period April-June 2010 recorded in the statistics - when work began on 30,350 homes - is almost perfectly bisected by the election.
If we look at the last complete quarter of the previous government (January-March 2010), then 27,960 homes began construction. Whichever baseline we use, the most recent quarter of data records a higher level of housing starts, although it's worth noting that housing starts fell to 22,160 in 2012 under the current government before recovering to breach this threshold.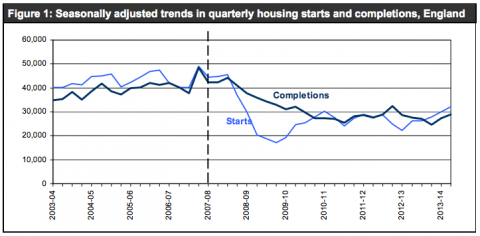 However these figures only cover England, and a different picture emerges if we look at the whole of the UK. These statistics are not seasonally adjusted, so need to be used with care, and only go up to the first quarter of 2013. However according to these figures, work began on 33,830 homes between January and March 2013, while 36,260 housing projects were started in the same three-month period of 2010.
The Prime Minister's claim isn't inaccurate: if we look specifically at England, house building starts have been rising since the beginning of 2012. However nor is it particularly revealing: while the recent uptick might take the number of homes started above the quarterly baseline left by the previous government by a few thousand, housebuilding in Britain is still at a very low ebb by historical standards.