In brief
Claim
House building has fallen to its lowest level since the 1920s.
Conclusion
Correct, although it's been falling since the 1960s under different governments.
"...house building has fallen to its lowest level since the 1920s..."

Jeremy Corbyn, 28 September 2016
Mr Corbyn is correct that house building has been at a record low in recent years. England and Wales have seen the fewest new homes completed per year during peacetime since the 1920s, according to official statistics.
2010 saw the lowest level, with 112,000 homes being built across England and Wales. In 2015 this increased to 149,000.
But the number of new homes has been falling since the 1960s. Before 2010, the period with the second lowest level of house building was seen under Labour in the early 2000s.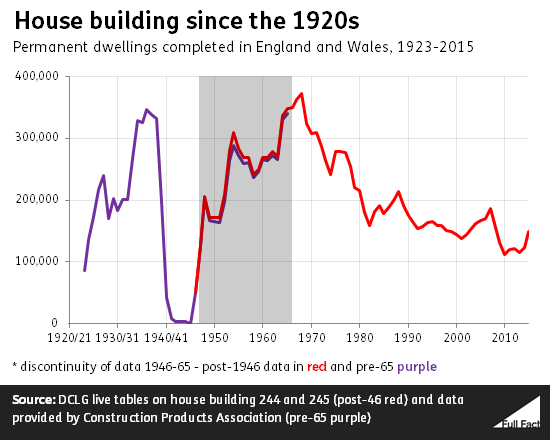 This isn't a new claim; we've looked at it before in more detail.
Update 29 September 2016
We updated this piece to make it clearer when the lowest levels of house building were.
This factcheck is part of a roundup of Jeremy Corbyn's party conference speech. Read the roundup.
We need facts more than ever.
Right now, it's difficult to know what or who to trust. Misinformation is spreading. Politics and the media are being pushed to the limit by advancements in technology and uncertainty about the future. We need facts more than ever.
This is where you come in. Your donation is vital for our small, independent team to keep going, at the time when it's needed most. With your help, we can keep factchecking and demanding better from our politicians and public figures.We can give more people the tools to decide for themselves what to believe. We can intervene more effectively where false claims cause most harm.
Become a donor today and stand up for better public debate, on all sides, across the UK.
---