The Labour Party will today outline plans to fund 125,000 new homes over the course of the next Parliament using money saved in the Help to Buy ISAs announced by the Chancellor in last month's budget.
These 125,000 over five years will be part of a wider scheme to build 200,000  new homes each year by 2020.
Most of the major political parties have pledged to increase home building over the next parliament; David Cameron has reportedly said the Conservatives could deliver 200,000 new homes per year by 2017, the Lib Dems are pledging 300,000 new homes per year, and the Greens have promised 500,000 new social rented homes by 2020.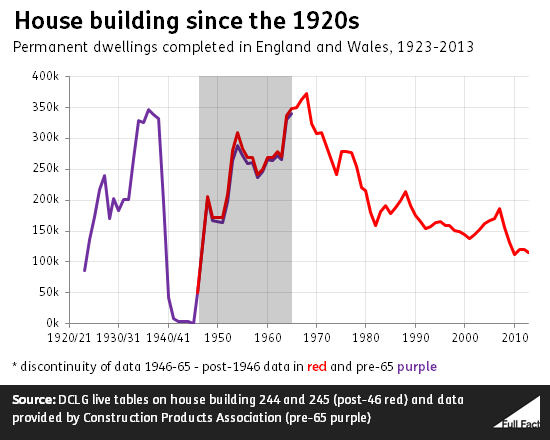 200,000 new homes a year would bring construction in England and Wales back to levels last seen in the 1970s. Housing in Scotland is devolved to the Scottish Government.
The number of houses completed per year has fluctuated, but has been broadly downward since the late 1960s. 115,000 were built in England and Wales in 2013, the latest year for which figures are available.
Isn't it nice to have the whole picture?
We rely on your donations to continue and grow our factchecking efforts - to help us maintain our independence we need 1000 donors to give £10 a month. We are currently at 502 - please help Full Fact grow.
---