The Labour Party will today outline plans to fund 125,000 new homes over the course of the next Parliament using money saved in the Help to Buy ISAs announced by the Chancellor in last month's budget.
These 125,000 over five years will be part of a wider scheme to build 200,000  new homes each year by 2020.
Most of the major political parties have pledged to increase home building over the next parliament; David Cameron has reportedly said the Conservatives could deliver 200,000 new homes per year by 2017, the Lib Dems are pledging 300,000 new homes per year, and the Greens have promised 500,000 new social rented homes by 2020.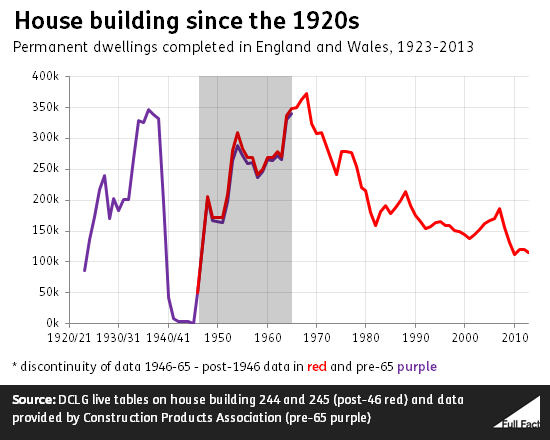 200,000 new homes a year would bring construction in England and Wales back to levels last seen in the 1970s. Housing in Scotland is devolved to the Scottish Government.
The number of houses completed per year has fluctuated, but has been broadly downward since the late 1960s. 115,000 were built in England and Wales in 2013, the latest year for which figures are available.
We need facts more than ever.
Right now, it's difficult to know what or who to trust. Misinformation is spreading. Politics and the media are being pushed to the limit by advancements in technology and uncertainty about the future. We need facts more than ever.
This is where you come in. Your donation is vital for our small, independent team to keep going, at the time when it's needed most. With your help, we can keep factchecking and demanding better from our politicians and public figures.We can give more people the tools to decide for themselves what to believe. We can intervene more effectively where false claims cause most harm.
Become a donor today and stand up for better public debate, on all sides, across the UK.
---