Housing, refugees and the National Living Wage: Prime Minister's Questions, factchecked
11 May 2016
Honesty in public debate matters
You can help us take action – and get our regular free email
Housebuilding
"The fact is we are building more houses right across England, we're building more affordable homes."—David Cameron
It's correct that 2015 saw the highest level of house building in a number of years. Around 143,000 homes were completed in total across England. The last time the figures were that high was in 2008.
This is still low by historical standards, though.
Looking just at 'affordable housing', it's also correct that more are being built. Taken at face value, the figures show that the number of new affordable homes increased by around 10% over the past five years. But once the figures are broken down, a more varied picture emerges.
Affordable housing includes a number of different housing types. Some are available under a Social Rent (a relatively low rent available to people on low incomes) and Affordable Rent (80% of the market rate).
There are also those which fall under Intermediate Rent (above social rent levels, but still below market value) and Affordable Home Ownership (in which properties are offered for sale at a level below the market rate).
While the number of new Social Rent homes has decreased over the period while Mr Cameron has been office, a lot more Affordable Rent homes have been built.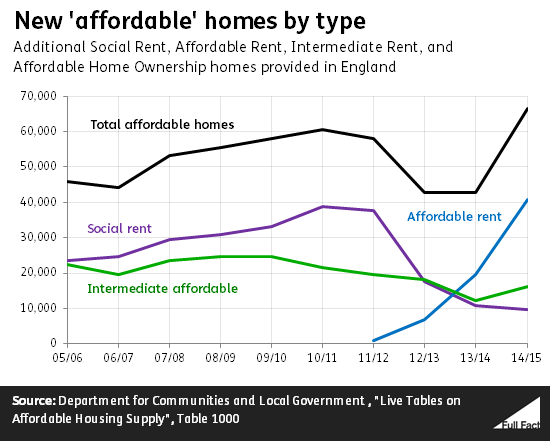 National Living Wage
"I really think [Jeremy Corbyn] ought to get up and say he supports the National Living Wage and he thanks the Government for introducing it."— David Cameron
"I support a wage rise obviously, but the point I am making is it is not a living wage as is generally understood."—Jeremy Corbyn
The new "National Living Wage" took effect on 1 April 2016. It's the new legally enforceable minimum rate of pay for workers aged 25 and over, set at £7.20 an hour.
It's different to the amount campaigners have been describing as the "Living Wage" since the 2000s.
The latter is based on asking people what they consider to be a minimum standard of living. The Living Wage Foundation urges employers to pay that rate, currently calculated at £8.25 an hour in the UK, except in London where it's £9.40.
The government's target is for the National Living Wage to climb to 60% of median earnings by 2020. That's expected to amount to a rate of a little over £9.
A lower minimum wage still applies to workers younger than 25.
Refugee children
"Last year 3,000 unaccompanied children arrived and claimed asylum in the UK even before the scheme that's being introduced. Under [EU rules on asylum], children with a connection to the UK can already claim asylum in France or Italy and then come to the UK. We've accepted 30 such transfers since February." - David Cameron
It's correct that around 3,000 unaccompanied children applied for asylum in the UK over the course of 2015. But not all of those will necessarily be granted asylum. Of the 1,900 decisions made on asylum for unaccompanied children that year, around 650 were rejected.
These children are in addition to any that the UK proactively takes in from around Syria or from other EU countries.
The difference is that the government hasn't gone out of its way to seek out the 3,000, and while under international law it has to consider their application to be accepted as a refugee, some will be rejected and deported.
Mr Cameron is also correct that an EU law called the Dublin Regulation says that unaccompanied children can apply for asylum in another country and then ask to have their request processed in the UK, if they have family living here.
Campaigners say that "in practice this rarely happens", and cite delays in the EU process. A British judge recently decided in the case of several Syrian children in Calais that because it took so long, human rights law demanded that they be allowed into the UK without having to apply for asylum first.
We've asked the government for more information about the figure of 30 transfers cited by Mr Cameron.
Housing Bill
"Last April the PM launched his manifesto promising to replace sold council houses with affordable homes in the same area. So why is the PM opposing the amendment to the Housing Bill this afternoon which effectively implements last year's [Conservative] manifesto commitment."—Karen Buck MP
"Our Housing Bill means that every high-value property sold will mean two new affordable homes in London. So why is it that the Labour Party and the other place are opposing what will mean more houses, more affordable homes and more home-ownership?"—David Cameron
Both sides can defend their description of the Bill. You can read the debate on the amendment for their arguments in full.
The government says the Housing and Planning Bill implements its manifesto promise to sell off and then replace expensive local authority homes. Labour says it doesn't live up to this promise because it doesn't guarantee the necessary funding.
The Conservatives' 2015 manifesto stated:
"We will fund the replacement of properties sold under the extended Right to Buy by requiring local authorities to manage their housing assets more efficiently, with the most expensive properties sold off and replaced as they fall vacant."
Clause 67 of the bill will require certain local authorities to make payments to the government based on how many vacant houses of 'high value' they have. It's expected this will mean those authorities will sell that housing in order to pay.
The Bill currently says that if a local authority has to pay the government money because of its high value houses, that amount can be reduced, provided it is spent on housing. In London, the requirement is that the local authority has to ensure that at least two new homes are provided for each one sold.
The amendment mentioned by Karen Buck, was made by the House of Lords.
Its proposer says that it: "seeks to put it beyond doubt that sufficient funding will be available to local authorities to deliver at least one new affordable home for each higher-value property sold; in London this will be at least two for one".
The Lords amendment would require that the local authorities' payments are reduced by enough to fund at least one affordable home, or two in London. Without the amendment, the size of the reduction will be up to the government.
Following today's PMQs, MPs voted to reject the amendment, meaning it will be sent back to the Lords.