"We have the second largest defence budget in NATO and the largest in the EU"—Conservative manifesto, page 77
The above claim is true if you use one measurement of global defence spending, but it's not the only measurement out there and the government over this parliament has not used one measurement consistently.
The UK holds these two titles according to the International Institute for Strategic Studies (IISS)—an international affairs think tank—with only the US, China, Russia and Saudi Arabia having larger defence budgets in 2014.
IISS' analysis is based on average market exchange rates for 2014. But another think tank—the Stockholm International Peace Research Institute (SIPRI)—also uses this measure and comes out with the UK's defence budget being placed third in NATO and second in the EU, behind France for both.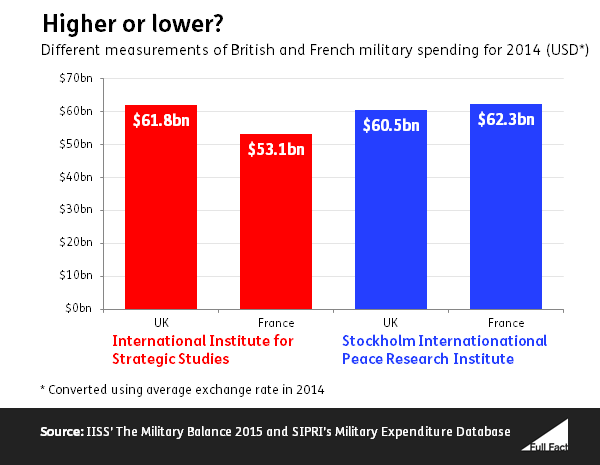 What accounts for the differentiation, then?
In short, there's no accepted definition of military expenditure. As IISS states (£):
"Despite efforts by NATO and the UN to develop a standardised definition of military expenditure, many countries prefer to use their own definitions (which are often not made public)."
SIPRI is fairly clear in what they class as military expenditure, listing primarily armed forces, defence ministries and other government agencies engaged in defence projects, paramilitary forces and military space activities. In contrast, IISS is somewhat vague (£) in their description.
But when we got in touch with SIPRI, we were told that:
"Other sources may put the UK higher, specifically above France, as we include the paramilitary Gendarmerie in our figures for French military spending, which most other sources do not."
So it depends on what these think tanks want or are able to include in their measurements as states often won't disclose (£) all of their military expenditure.
The two measures have also been used to make claims about defence spending at different points over this parliament by the government, despite their methodological differences.
But the government's repeated claim - between late 2010 and early 2014 - that the UK had the world's fourth largest defence budget isn't supported by the IISS reports that they currently base their defence budget claims on.
Instead, the government relied on annual SIPRI reports during these years which placed the UK fourth (apart from the 2011 report for 2010 which ranked the UK third).
So why isn't the government still using SIPRI's measurement?
The UK dropped from fourth to sixth in SIPRI's report for 2013, published in April 2014. This coincides with the last use of the claim by the government in January 2014.
Later in 2014 the government began to claim that the UK has the fifth largest defence budget in the world, abandoning SIPRI for the more favourable IISS report. The government has since stuck with this measure.
The integrity of our elections is in danger, and we need your help
You're probably here looking for facts. Thank you for that trust. But with the EU parliament elections on the way and more elections a possibility, we need to act now to make sure our elections are protected, before it's too late.
Could you help protect our elections by becoming a Full Fact donor?
Misinformation isn't new, but advancements in technology mean it can spread at an unprecedented scale. Our dangerously outdated election laws have not kept up with the digital age, putting our next elections at risk of abuse.
Currently, it's possible for a candidate to run a thousand different political ads to win the same seat, promising something different to each group it targets. At the same time, there's no law requiring those who publish online campaigns to disclose who they are or how they are funded. The opportunity for bad actors to manipulate election results is left wide open.
You may already know about our work to make public debate online more honest and transparent. Every day, we call out the most harmful misinformation on social media platforms when and where we see it. But right now, we're urging the government to overhaul our election laws to make sure political campaigning is held to the same level of scrutiny online as it is offline.
This work all depends on the generosity of hundreds of people who all believe that for democracy to work, we need transparency. Our monthly donors help strengthen our voice, and show our politicians that this really matters. Would you consider joining them?
Become a donor today to make sure our elections are protected.
---