You could be forgiven for thinking the youth unemployment rate shows how many young people are without a job. But this is not the case, as the Telegraph explores in a piece today:
"Youth unemployment has hovered around 20pc for some time now," said ONS spokesman David Bradbury. "But when you see headlines saying, 'One-in- five young unemployed', that's not completely correct and doesn't paint the full picture."
That's because the unemployment rate only applies to some young people; it shows the proportion of those in the labour force who are unemployed. Many young people, particularly students, are economically inactive - meaning they are not employed and not seeking employment. They are not factored into the calculation.
The proportion of all 16-24s who are unemployed is around 13%, according to the latest release on the subject from the ONS. This compares to 51% who are employed and 36% who are economically inactive.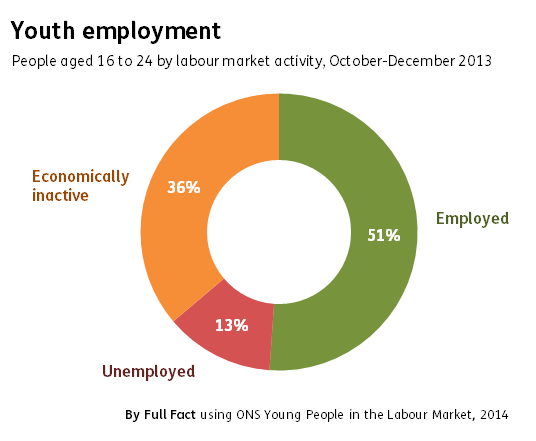 We need facts more than ever.
Right now, it's difficult to know what or who to trust. Misinformation is spreading. Politics and the media are being pushed to the limit by advancements in technology and uncertainty about the future. We need facts more than ever.
This is where you come in. Your donation is vital for our small, independent team to keep going, at the time when it's needed most. With your help, we can keep factchecking and demanding better from our politicians and public figures.We can give more people the tools to decide for themselves what to believe. We can intervene more effectively where false claims cause most harm.
Become a donor today and stand up for better public debate, on all sides, across the UK.
---