After David Cameron claimed that Labour didn't want to talk about the economic recovery during today's Prime Minister's Questions, the party's press office issued the following tweet: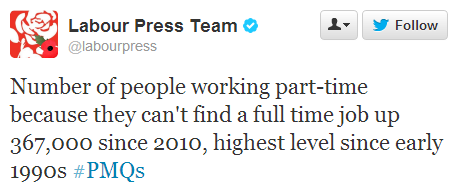 The Labour press team is quoting official figures from the Office for National Statistics. The Labour Force Survey, which is the source of a large part of the ONS's labour market statistics, asks people whether they are employed and, if they're employed part-time, whether this is through choice or obligation. 
In the first quarter of 2010, 1.08 million people said that they worked part-time because they couldn't find a full-time job. (Other reasons include not wanting a full-time job, being ill or disabled, or being a student.) According to the most recent survey (June-August 2013), there are now 1.45 million people working fewer hours than they would like to, which (as Labour says) is an increase of some 367,000 since the last general election.
The data series in question dates back to 1992 and it's certainly the case that 1.45 million people being 'under-employed' is the highest number on record. However, as the size of the economically active population has increased over this period too, it's more helpful to look at what proportion of part-time workers this description applies to.
Currently, 18.5% of those employed part-time are only doing so because they can't find a full-time job. Again, this is the highest proportion on record (and is an increase of 4.3% on 2010.)
It became easier to find a full-time job in the late 1990s and early 2000s, but after the recession of 2008 there was a sharp rise in the number of people confined to part-time work.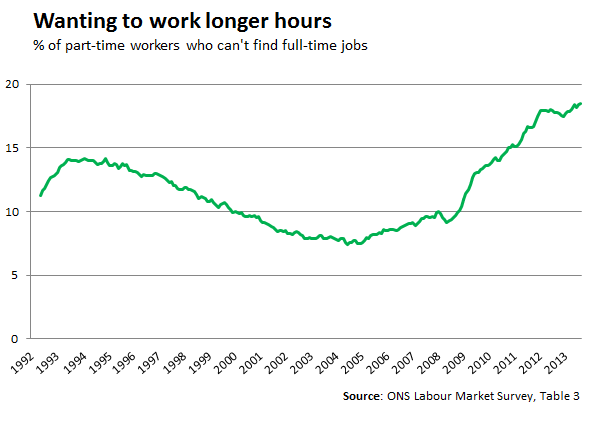 Can you help protect this election from the influence of bad information? Support Full Fact
This election, clear, accurate facts won't always be a guarantee. False and harmful claims are spread every day by our public figures and media. Intentional or not, they have the power to shape the choices we make. We all deserve better than that.
That's why we're fighting to keep this election more honest and accountable. And we can't do it without you. In a fast-paced campaign, our supporters mean we can hold all candidates to the same three principles: get your facts right, back them up with evidence, and correct your mistakes.
Just a small monthly donation keeps us scrutinising the most harmful false claims around the clock, and challenging the people who make them.
If you, like us, don't want your vote to be influenced by bad information, can you help out?
---