How popular is the UK for Chinese investment?
2nd Dec 2013
"Chinese investment in the UK has almost doubled in one year, making us the most popular investment destination in Europe with more investment than the next four most popular EU destinations combined."
David Cameron in the Guardian, 2 December 2013
"A relationship to benefit all" was the tagline to the Prime Minister's article this morning as he justified his three-day business trip to China. According to the piece, from an economic perspective at least, the relationship is already paying dividends.
China already features prominently on the UK's imports and exports balance sheet. It's our 7th largest export customer and, behind Germany, our 2nd largest source of imports.
Investment - often called 'foreign direct investment' in this sense, happens when a company based in one country 'invests' some of its resources in another country. This can happen by establishing a branch in another country ('greenfield' investment), ploughing money into an existing foreign branch, or buying equity in a foreign company outright.
The UK-China investment picture isn't as easy to paint. After we asked Number 10 for the source of the Prime Minister's claim, they directed us to the Chinese Ministry of Commerce (MOFCOM). However, they didn't seem to have any relevant figures showing a doubling of investment in the space of a year, and the PM's office weren't able to provide any more detail.
Plausible, but it might not last
There are publicly available figures for 2010 for where Chinese money is flowing. Chinese companies invested about £45 billion abroad in 2010, just over £200 million of which went to the UK. Compared to the rest of Europe, the UK was a prominent but not leading investment target: Germany, Hungary, Luxembourg, Russia and Sweden all welcomed more in.
At the same time, unconfirmed figures suggest the UK's investment from China grew to over £370 million by 2011 - almost doubling.
This one-year snapshot is, however, not very helpful. Direct investment flows fluctuate wildly from year to year, mainly because the bulk of these can be explained away by single takeovers. So Kraft's prominent takeover of Cadbury in 2010 would have had a significant affect on the UK's incoming direct investment from the US for that year.
If you were to take 2006 for instance, Chinese investment totalled barely over £20 million. A year later, it was up to nearly £370 million. Other countries will have similar variance of their own.
As well, 'recipient' countries of investment aren't necessarily the ultimate destination. The reason a country like Luxembourg consistently trumps its European neighbours is its role as an 'investment gateway'. So the destination countries in the statistics don't necessarily equate to the ultimate recipients of the investment.
A longer-term perspective
A more relevant long-term indicator for the UK is how much stock investment China has in the UK. This is a measure of the total value of Chinese assets in UK-based companies. In 2010, Chinese companies had their fingers in foreign pies worth over £200 billion. It's total stake in the UK comes out at around £800 million.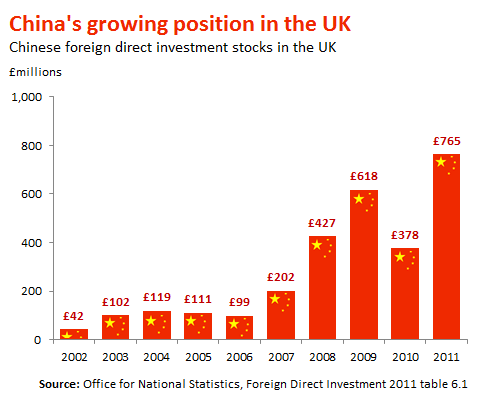 From the other side, UK companies' overseas stakes topped £1 trillion (£1,000 billion) in 2010, £6 billion of which was with China.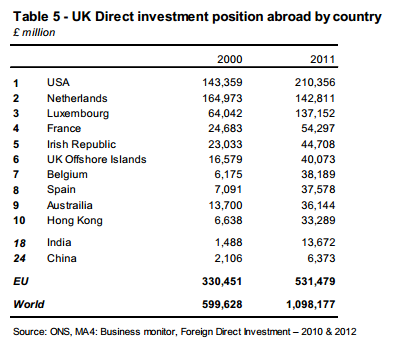 [Source: House of Commons Library]
China still makes up a fraction of the UK's foreign investment incomings, compared to the likes for France, Germany and the USA. But it's a growing market. The opening up of Chinese investment in UK nuclear power, as suggested in recent reports, is likely to make it even bigger, as will trips like the PM's this week, if they are successful.
Unfortunately, the specific figures used by the PM aren't traceable as yet.