In brief
Claim
The IMF says that the UK will be the fastest growing economy in the G7 in 2016, whereas it had predicted that a Brexit vote would be immediately bad for the economy.
Conclusion
It's true that the IMF puts the UK at the top of the G7 for growth in 2016. It had envisaged scenarios where the UK economy suffered soon after a vote to leave the EU. That hasn't happened, although the IMF still thinks there's trouble coming.
"The IMF is saying that the UK is going to be the fastest growing economy in the G7 this year, having said it was going to be a disaster"

Merryn Somerset Webb, 17 November 2016
This is correct, although the International Monetary Fund has also reduced its expectations for the UK's economy next year by  more than any G7 country.
The IMF publishes a closely watched World Economic Outlook that forecasts the economic prospects of different countries and regions. The October 2016 version says that the UK economy will grow by 1.8% in 2016. That's more than any of the other 'G7' countries, forecasts for which range from 0.5% (Japan) to 1.7% (Germany).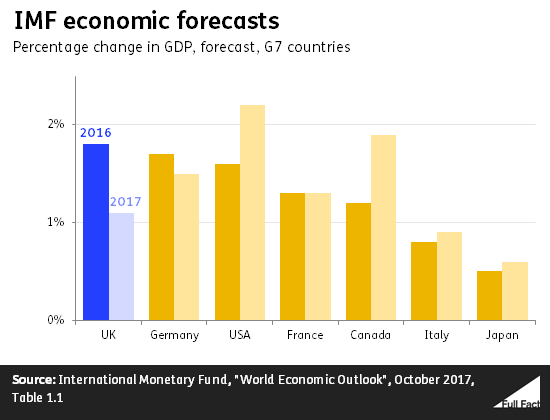 In June, the IMF had said that growth could be as low as 1.1% in 2016 if there were a Brexit vote. The previous month, it highlighted the risk of "an abrupt reaction to an exit vote… this could entail sharp drops in equity and house prices". This hasn't materialised.
But it still thinks that there will be economic repercussions, even if there's been a "soft landing" for now. The UK growth forecast for 2017 is now 1.1% lower than it was in April. The latest World Economic Outlook says:
"Although the market reaction to the Brexit shock was reassuringly orderly, the ultimate impact remains very unclear, as the fate of institutional and trade arrangements between the United Kingdom and the European Union is uncertain."
This factcheck is part of a roundup of BBC Question Time. Read the roundup.
Isn't it nice to have the whole picture?
We rely on your donations to continue and grow our factchecking efforts - to help us maintain our independence we need 1000 donors to give £10 a month. We are currently at 502 - please help Full Fact grow.
---