"There are people paying astronomic rents nowadays. 60% of your income on rental."

Diane Abbott, 23 November 2017
There are 12 local authorities where the person on the average salary would have to spend 60% or more of their income to pay the average private rent, according to the Office for National Statistics.
These areas are all in London, including Hackney where Ms Abbott's Hackney North and Stoke Newington constituency is located.  
We don't know how many people are actually paying these kinds of rates but it does give a sense of how affordable rent is in different areas.
The figures are based on the median average. In other words they line up all the rents from smallest to largest, and take the one in the middle. And they do the same for salaries.  The person paying the median rent is probably not the person getting the median salary. The median salary is divided by the median rent to produce the ratio.
The House of Commons Library produced a map of the data, shown below.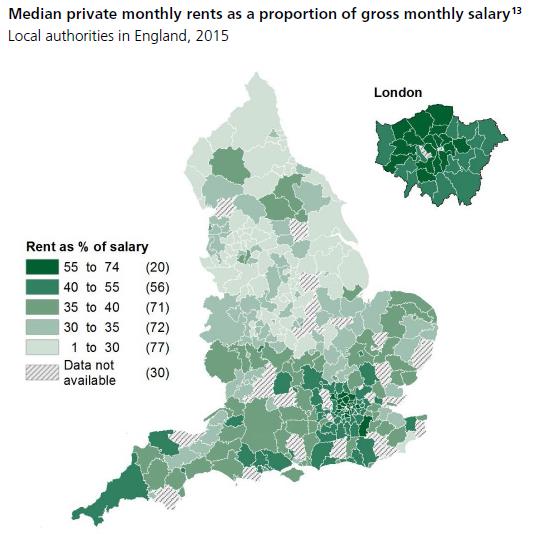 Across England, private renters spent an average of 35% of their income on rent in 2015/16, using the mean not median average.  
This factcheck is part of a roundup of BBC Question Time. Read the roundup.
With Brexit fast approaching, reliable information is crucial.
If you're here, you probably care about honesty. You'd like to see our politicians get their facts straight, back up what they say with evidence, and correct their mistakes. You know that reliable information matters.
There isn't long to go until our scheduled departure from the EU and the House of Commons is divided. We need someone exactly like you to help us call out those who mislead the public—whatever their office, party, or stance on Brexit.
Will you take a stand for honesty in politics?
---