"House prices are high across the country – even where houses are available to buy, they are often unaffordable for first-time buyers. In many areas, the rental market has also become unaffordable."
The average house price in the UK was

£216,000 in March 2017

. The average varies across the country. The North East had the lowest average

of the English regions

(£122,000) and London had the highest (£472,000).

There are

different ways of measuring housing affordability

. House prices have

increased faster than earnings

. In England and Wales, the median house price is now

almost eight

times higher than the median wage (the median is the point in the middle, where half are higher and half are lower).

The Office for National Statistics

has calculated

that in the 'least affordable' council in England (Westminster), the median rent was 73% of the median wage in 2015. In Copeland, Cumbria, the figure was 19%.

Comparing prices to wages means looking at the pay an average employee gets. It's not a full reflection of how much money a household has to spend on housing because it doesn't factor in things like taxes, benefits and pensions. Some households have more than one person contributing to their income, too.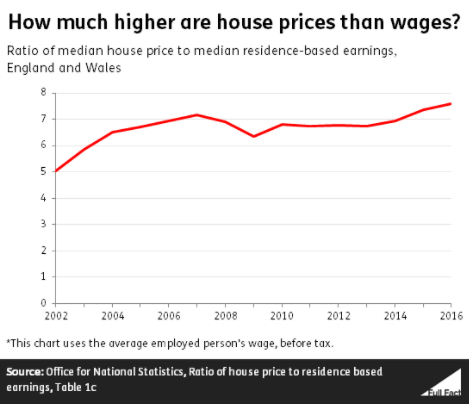 This factcheck is part of a roundup of Liberal Democrat party manifesto launch. Read the roundup.
The integrity of our elections is in danger, and we need your help
You're probably here looking for facts. Thank you for that trust. But with the EU parliament elections on the way and more elections a possibility, we need to act now to make sure our elections are protected, before it's too late.
Could you help protect our elections by becoming a Full Fact donor?
Misinformation isn't new, but advancements in technology mean it can spread at an unprecedented scale. Our dangerously outdated election laws have not kept up with the digital age, putting our next elections at risk of abuse.
Currently, it's possible for a candidate to run a thousand different political ads to win the same seat, promising something different to each group it targets. At the same time, there's no law requiring those who publish online campaigns to disclose who they are or how they are funded. The opportunity for bad actors to manipulate election results is left wide open.
You may already know about our work to make public debate online more honest and transparent. Every day, we call out the most harmful misinformation on social media platforms when and where we see it. But right now, we're urging the government to overhaul our election laws to make sure political campaigning is held to the same level of scrutiny online as it is offline.
This work all depends on the generosity of hundreds of people who all believe that for democracy to work, we need transparency. Our monthly donors help strengthen our voice, and show our politicians that this really matters. Would you consider joining them?
Become a donor today to make sure our elections are protected.
---