"House prices are high across the country – even where houses are available to buy, they are often unaffordable for first-time buyers. In many areas, the rental market has also become unaffordable."
The average house price in the UK was

£216,000 in March 2017

. The average varies across the country. The North East had the lowest average

of the English regions

(£122,000) and London had the highest (£472,000).

There are

different ways of measuring housing affordability

. House prices have

increased faster than earnings

. In England and Wales, the median house price is now

almost eight

times higher than the median wage (the median is the point in the middle, where half are higher and half are lower).

The Office for National Statistics

has calculated

that in the 'least affordable' council in England (Westminster), the median rent was 73% of the median wage in 2015. In Copeland, Cumbria, the figure was 19%.

Comparing prices to wages means looking at the pay an average employee gets. It's not a full reflection of how much money a household has to spend on housing because it doesn't factor in things like taxes, benefits and pensions. Some households have more than one person contributing to their income, too.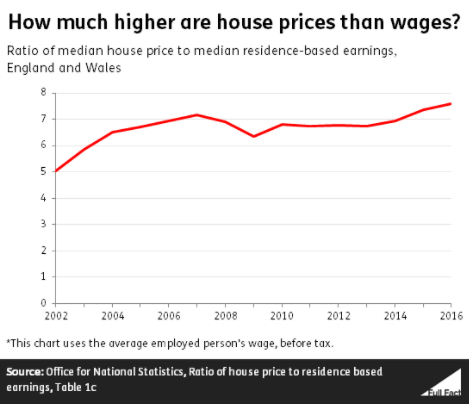 This factcheck is part of a roundup of Liberal Democrat party manifesto launch. Read the roundup.
With Brexit fast approaching, reliable information is crucial.
If you're here, you probably care about honesty. You'd like to see our politicians get their facts straight, back up what they say with evidence, and correct their mistakes. You know that reliable information matters.
There isn't long to go until our scheduled departure from the EU and the House of Commons is divided. We need someone exactly like you to help us call out those who mislead the public—whatever their office, party, or stance on Brexit.
Will you take a stand for honesty in politics?
---