Middle-class problems: are there fewer jobs now for those in the middle?
14 January 2014
Ahead of a widely-trailed speech later this week, Mr Miliband set out his plans to "rebuild our middle class" in an article for the Telegraph. We've taken a look at some of his main claims:
"According to Government figures, the occupations that have suffered the largest falls in employment over the past 30 years are all in the middle."
Ed Miliband, Telegraph 14 Jan 2014
It's important to understand, according to Mr Miliband, that the cost-of-living 'crisis' hitting the middle-classes is a long-term trend.
It raises the obvious question: who's actually in the 'middle'? Mr Miliband's office directed us to a recent government-commissioned research paper as the source.
It shows a number of studies examining what's known as 'hollowing out' — when high-paying and low-paying jobs flourish as a portion of total employment at the expense of middle-paying jobs.
The studies show that something similar has been happening in the UK for the last few decades.
The most recent — published by the Resolution Foundation in 2012 - found that when occupations are ranked in tenths according to the wages they pay, the top 20% and bottom 10% paying occupations have become more prevalent while the middle-ranking jobs have declined.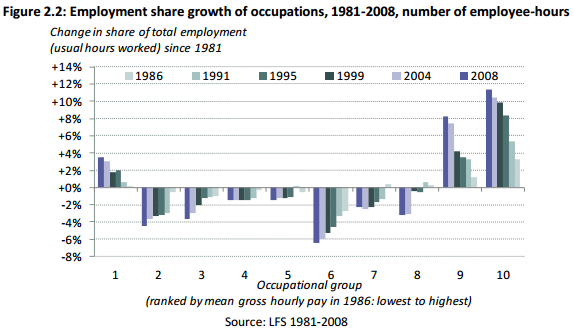 One study with similar findings found that the growth in care, education and hospital assistants over the last few decades is one factor behind the rise in the lowest-paying jobs.
The latest figures from the ONS back that up. Since 1979 over 2.5 million jobs in manufacturing have gone, while there are over one million more jobs in education and two million more in health and social work.
Technological change is another popular explanation: manual, skilled occupations involving routine tasks have seen roles replaced by machines, while jobs in the service sector have been less affected since technology is less of a substitute.
So the phenomenon Mr Miliband refers to is considered real even in research commissioned by the government itself and relied upon by the Labour leader.
However, he goes further than that research would in how he colours the point. Where he says "there has been a hollowing-out of those white-collar professions that used to keep the middle class strong," its author says:
"A key message to emerge from this review, however, is that the changes in the jobs distribution, particularly at intermediate levels, have not been as dramatic as the phrase 'hollowing-out' implies, and phrases such as the 'disappearing middle', that one sometimes hears used, wrongly imply that in termediate level jobs are going to become a rarity."