Official employment figures don't show how many new jobs go to British and foreign workers.
The figures do show changes in employment by nationality or country of birth.
As of May 2016, UK nationals accounted for 45% of the change in employment since last year compared to non-UK nationals. UK-born people accounted for 23% of the change compared to those born abroad.
Of the change in employment since 2010, 60% is accounted for by UK nationals. UK-born people accounted for 42% of the rise, those born abroad accounted for the other 58%.
Employment, not jobs
About 31.5 million people are employed in the UK. 26 million were born here and 5 million abroad. 28 million are UK nationals and 3 million are foreign nationals.
These aren't the number of jobs. One person can have more than one job: there are around 34 million workforce jobs in the economy. But there aren't any published figures provided by the Office for National Statistics that show whether British or foreign workers hold them.
Net change, not new
Recessions aside, the total number of people in work almost always rises as the population increases. But that's not the same for everyone: some people fall out of work while others enter it. When employment increases, all we know is that more people are finding work than are losing it.
So just because employment overall goes up doesn't mean that employment's rising for everyone. If 100 more people are in work since last year, it could be that 300 more British nationals are in work and 200 fewer foreign nationals are. 100 is the difference.
This wouldn't mean that British nationals had taken 300% of new jobs.
As a more concrete example, employment rose by 15,000 between the end of 2010 and the end of 2011. But that was because UK national employment fell by 163,000 and foreign national employment rose by 169,000 (and employment rose by 9,000 for those who didn't state their nationality). Clearly, it's problematic to state these as proportions of the change in employment.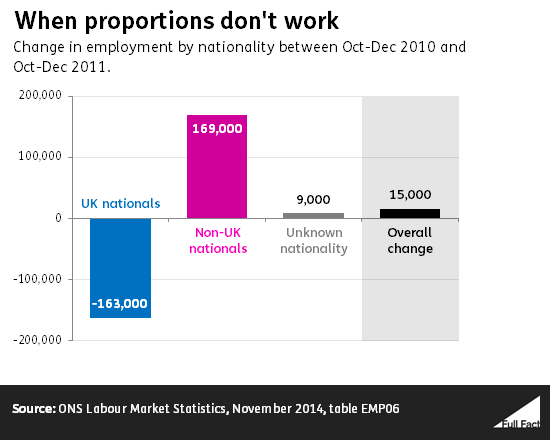 We need facts more than ever.
Right now, it's difficult to know what or who to trust. Misinformation is spreading. Politics and the media are being pushed to the limit by advancements in technology and uncertainty about the future. We need facts more than ever.
This is where you come in. Your donation is vital for our small, independent team to keep going, at the time when it's needed most. With your help, we can keep factchecking and demanding better from our politicians and public figures.We can give more people the tools to decide for themselves what to believe. We can intervene more effectively where false claims cause most harm.
Become a donor today and stand up for better public debate, on all sides, across the UK.
---