"The forgotten army of over-50s women, whose unemployment has jumped by 45% since 2010."

Independent, 8 May 2014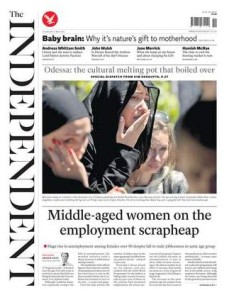 As news from the jobs market has improved over recent months, much of the political controversy has shifted to focus on the groups 'left behind' by the economic recovery.
Today's Independent front page identifies one group that it claims is continuing to struggle: middle-aged women, who the paper's headline suggests are being left on the "employment scrapheap".
While there has been an increase in the number of women over 50 categorised as unemployed, the number in this age bracket who are working has also increased. Increasing numbers of women are remaining economically active past 50, which is likely to be driving the rise in both employment and unemployment.
Rising unemployment and rising employment
111,000 women over the age of 50 were classed as unemployed between February and April 2010, compared to 161,000 in December 2013-February 2014, according to the latest figures.
Most of these women were in the 50-64 age group, with just 12,000 over-65s reporting as unemployed in the latest period.
However these figures also bear out the government's response, that "the proportion of women between 50 and 64 who are in work is at its highest level ever - 63.2 per cent, compared to 58.6 per cent in 2010." Over the same period, the number of over-50 women in employment has grown by 473,000.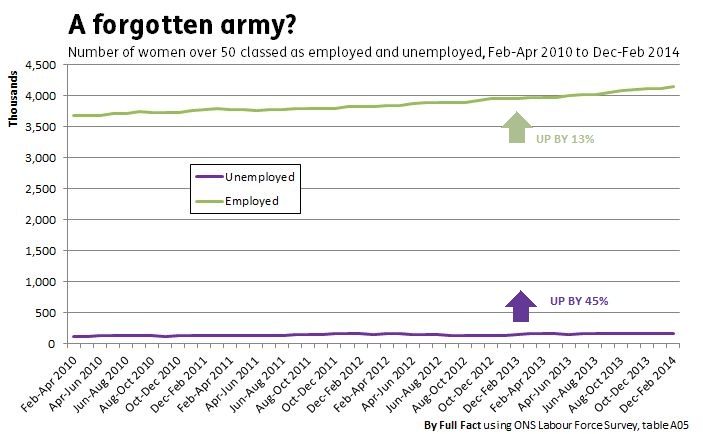 Staying active past 50
Partly this rise in the numbers of both unemployed and employed older women is due to demographic factors: the population of female over-50s has risen by 643,000 to nearly 11.8 million over this period.
However this doesn't entirely explain it: if we look instead at the proportion of all women in this age bracket who are employed and unemployed, we can see that both the employment rate and the unemployment rate have also risen.
The reason for this is that more women over 50 are remaining or becoming 'economically active': that is they are either continuing to work or to look for work rather than, say, retiring or acting as a housewife.
To be considered either employed or unemployed, you must first be economically active. Whereas 34% of women over 50 were economically active in Feb-Apr 2010, nearly 37% were in Dec-Feb 2014, an increase of 524,000 people.
This trend of increasing economic activity in later life might be particularly stark for women, as the age at which they can claim their state pension is gradually being increased from 60 in 2010 to 65 in 2018.
So while both the Independent's claim about rising unemployment and the government's claim about rising employment among older women are both supported by the figures, neither are particularly useful in isolation for telling us about the underlying health of the jobs market for this group of people.
We aim for our factchecks to be as accurate and up-to-date as possible. If you think we've made an error or missed some relevant information, please email
team@fullfact.org
.