"One of the fastest growing businesses on the high street are the payday lenders, sometimes charging extortionate rates of interest. In hard times, it is no wonder people turn to them. But often they just engulf people in debts that they cannot pay. Interest rates of over 1000%."
Ed Miliband, 8 April 2013
"The number of payday loan firms operating on high streets leapt by 20 per cent last year, while the presence of betting shops and pawnbrokers also increased"
Independent, 8 April 2013
As political parties launched their local election campaigns today, it was Labour Leader Ed Miliband who carried many of the headlines after pledging to give councils the power to prevent payday lenders from "swamping" high streets across the country.
What are payday loans?
The House of Commons Library's note on payday loans provides a useful starting point:
"a payday loan is an advance on wages or salary by a commercial lender at an agreed interest rate. Under the provisions of the Consumer Credit Act 1974 (CCA 1974), all payday lenders must have a valid licence from the Office of Fair Trading (OFT) in order to operate."
A typical situation might be a member of the public who owes money and can't immediately pay for it - perhaps as a result of an unexpected bill - but also doesn't want to go into overdraft with their bank.
For some, payday loans are a quick and easy alternative to bank loans for meeting money demands until their next payday. For others, they can be unscrupulous lenders who prey on the most vulnerable with towering interest rates.
How widespread are they?
According to a 2010 Consumer Focus report, at least 1.2 million of us took out a payday loan in 2009, taking out 4.1 million loans worth £1.2 billion. That was based on surveys carried out by IRN Research, who also estimated the payday loan market as worth £330 million in 2006. This suggests a considerable growth in the market at the end of the noughties.
There are more up-to-date figures now. Last month the Office for Fair Trading (OfT) - who issue (and have the power to revoke) licences to payday lenders - completed a year-long compliance review into the payday lending market.
Based on responses from 190 lending companies, they estimate that in 2011/12 the total number of payday loans issued was between 7.4 and 8.2 million. The value of these loans is estimated as between £2 and £2.2 billion. These figures are almost double IRN's 2009 estimate, although they aren't necessarily comparable due to possible differences in calculation.
In any case, there's some evidence to suggest the trend in using such loans has been on the rise since the mid noughties.
Finding the actual number of payday lenders is actually quite difficult to establish. While we could look at the number of licences issued by the OfT, there isn't a specific type of licence for payday lenders as opposed to other types of credit agency. This much was made clear in response to a Freedom of Information request last year.
However, the OfT did inform us that they were aware of around 240 payday lenders in operation, of which the largest 50 accounted for over 90% of the market by turnover.
How many shops?
The only obvious source for Ed Miliband and the Independent's claims this morning come from PwC and Local Data Company (LDC) statistics. These showed that retailers classified as "cheque cashing/payday loans" were the fastest growing of the types measured, growing by 20% over the last year and bucking the trend for most types of retailer.
It isn't possible to get a detailed breakdown of the figures, so all we know is that LDC visited the top 500 town centres (these are defined by the Department for Communities and Local Government) and recorded the occupancy status (occupied, vacant or demolished) of the premises, as well as the type of business present.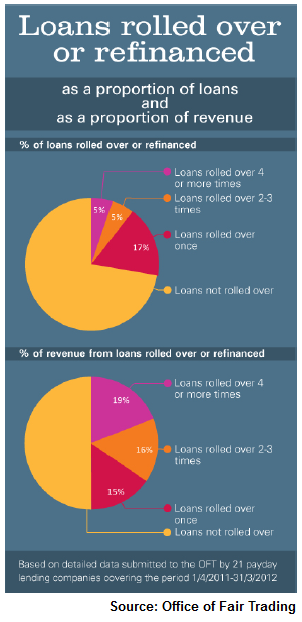 What's the problem?
The OfT's report was highly critical of the current state of the payday lending market. The very first line of the report stated in no uncertain terms:
"The payday loans market is not working well for many consumers. Our review has found evidence of widespread non-compliance with the Consumer Credit Act and other legislation. Payday lenders are also not meeting the standards set out in our Irresponsible Lending Guidance."
There were a number of reasons for concluding this, but some of its key findings included that a third of loans are repaid late or not repaid at all, and that one fifth of the industry's revenue comes from the 5% of loans that are 'rolled over' or refinanced more than three times.
The graph above demonstrates the proportion of loans and revenue that consumers 'roll over', and how many times this happens.
As a result of this and other concerns, the regulator resolved to require "immediate steps" from the 50 largest lenders to improve their compliance.
The price comparison site Moneysupermarket.com shows how some represenative annual percentage rates (APRs) for major lenders can be far over 1000%, as Ed Miliband was alluding to. However as Consumer Focus point out, this often doesn't work out as this much in practice, as an APR of, say, 1,200 per cent works out at about 23 per cent per month. Payday loans are often taken out as short-term loans, so consumers don't necessarily end up paying as much as the APRs suggest.
We aim for our factchecks to be as accurate and up-to-date as possible. If you think we've made an error or missed some relevant information, please email
team@fullfact.org
.