Public services face a "rollercoaster" ride over the next five years, the Office for Budget Responsibility (OBR) has predicted after the Chancellor laid out the government's spending plans in the pre-election budget last week.
The OBR, responding to the government's plan to tighten spending in the early part of the next parliament, said that there will be a "much sharper squeeze on real spending in 2016-17 and 2017-18 than anything seen over the past five years followed by the biggest increase in real spending for a decade in 2019-20."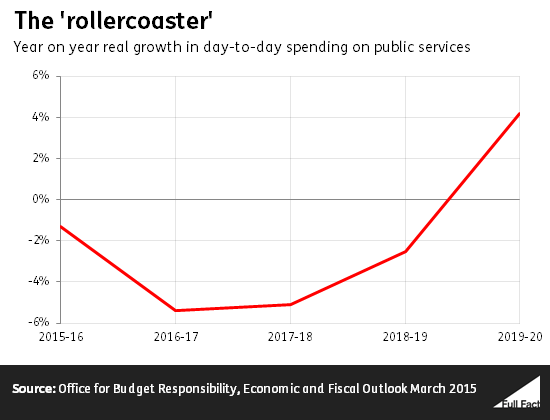 The problem is that this might not be the spending path we get. This is a coalition government, and these plans assume that the coalition's policies will be carried out. But as the OBR notes, "both parties in the Coalition have said that they would pursue different policies if they were to govern alone" and Labour has also set out different plans.
This leaves us in the position of having an official set of forecasts that are almost certain to be wrong.
As for why this particular spending path has been chosen, there's a telling line in the OBR's Economic and Fiscal Outlook.
Discussing the effects of the Budget on future spending, they note that the policy decisions ensure "that public spending as a share of GDP no longer falls to a new post-war low in 2019-20".
This means that Labour's claim that the government's plans would cut spending as a share of GDP back to the levels of the 1930s might now be obsolete.
The integrity of our elections is in danger, and we need your help
You're probably here looking for facts. Thank you for that trust. But with the EU parliament elections on the way and more elections a possibility, we need to act now to make sure our elections are protected, before it's too late.
Could you help protect our elections by becoming a Full Fact donor?
Misinformation isn't new, but advancements in technology mean it can spread at an unprecedented scale. Our dangerously outdated election laws have not kept up with the digital age, putting our next elections at risk of abuse.
Currently, it's possible for a candidate to run a thousand different political ads to win the same seat, promising something different to each group it targets. At the same time, there's no law requiring those who publish online campaigns to disclose who they are or how they are funded. The opportunity for bad actors to manipulate election results is left wide open.
You may already know about our work to make public debate online more honest and transparent. Every day, we call out the most harmful misinformation on social media platforms when and where we see it. But right now, we're urging the government to overhaul our election laws to make sure political campaigning is held to the same level of scrutiny online as it is offline.
This work all depends on the generosity of hundreds of people who all believe that for democracy to work, we need transparency. Our monthly donors help strengthen our voice, and show our politicians that this really matters. Would you consider joining them?
Become a donor today to make sure our elections are protected.
---