In brief
Claim
Wages are rising at the fastest pace in three years.
Conclusion
This refers to regular pay, and doesn't factor in inflation or peoples' total pay. Total pay in Great Britain is growing in real-terms by 0.2% in the three months to July 2018, the joint fastest pace in 18 months.
"Wages are rising at the fastest pace in three years."

The Times, 12 September 2018
This is only true for one out of the four different ways you can measure wage growth – and it's not a very useful one. The claim is correct for regular wages, but doesn't account for inflation (the rise in prices) so doesn't reflect real pay rises. It also doesn't include bonuses, so won't reflect the total that some people actually take home.
 Real terms total pay (the measure that accounts for inflation and includes bonuses) was growing at 0.2% a year in Great Britain (i.e. not including Northern Ireland) in July 2018. That's the joint fastest rise since the start of 2017 when wages grew at 0.5%, but still very slow compared to previous years. In 2015 pay increases exceeded 2.5%.
How is wage growth measured?
The Office for National Statistics publishes four forms of data looking at the growth in average weekly earnings across the economy. One is the growth in regular pay—which is pay before bonuses—and at the other is the growth in total pay—which includes bonuses.
Both of these measures can then be considered with or without inflation to give a total of four metrics.
The Times used the "regular pay" before inflation measure, which was increasing by 2.9% a year in three months to July 2018, the joint fastest rate since the three months to July 2015 when it was 3%.
This doesn't account for how prices are changing, so isn't that meaningful a figure on its own. It also doesn't reflect what some people actually take home in their pay packets as it excludes bonuses.
It also portrays wage growth in its rosiest light—at its highest rate in three years. Meanwhile in July 2018, total pay (not accounting for inflation) was growing at its joint fastest in five months, real-terms total pay and real terms regular pay were both growing at their joint fastest in the last 18 months.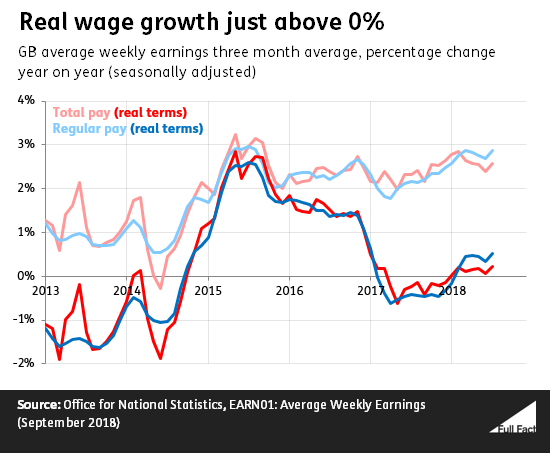 Three years ago total pay was rising by around 2% to 3% per year, but inflation was also close to zero, meaning that real-terms pay was also increasing by 2% to 3% per year.
In recent months pay has been growing at a similar pace, but in July 2018 inflation was at 2.3%, meaning that the real terms pay growth is much lower.
Correction 20 November 2018
Originally the piece said earnings data referred to the UK, instead of Great Britain.
With Brexit fast approaching, reliable information is crucial.
If you're here, you probably care about honesty. You'd like to see our politicians get their facts straight, back up what they say with evidence, and correct their mistakes. You know that reliable information matters.
There isn't long to go until our scheduled departure from the EU and the House of Commons is divided. We need someone exactly like you to help us call out those who mislead the public—whatever their office, party, or stance on Brexit.
Will you take a stand for honesty in politics?
---