As part of his Budget speech today, the Chancellor claimed "we now have a record number in work; a record number of women in work"
This isn't a very helpful way of looking at things. We've made the point before that the population is rising anyway, and that the number of people in work is almost always rising. Even with the news that's been coming out of headline employment of late, the employment 'rate' - people in work as a proportion of everyone in work or looking for it - isn't at record levels.
What's changed since we covered this last is the situation for women. At 14 million, there are more in work than when records began, and at 67.2% the employment rate for women is also at a record high.
Less helpful still though is what got a few people's attention on Twitter following the Budget statement: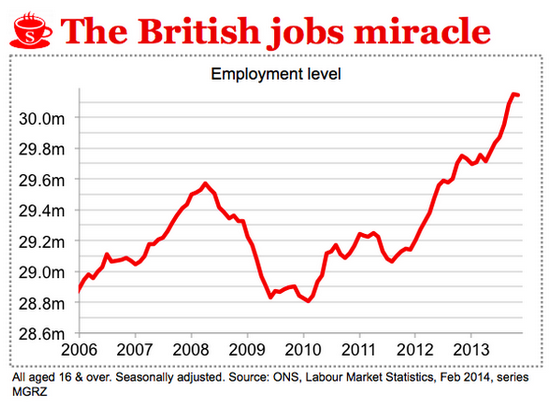 Such a 'zoomed in' picture isn't necessary and takes out most of the context. It's not always wrong to zoom in on a graph, and we've used the technique before to demonstrate important details in data. Here however we feel it's much more helpful to have the forest than a few trees: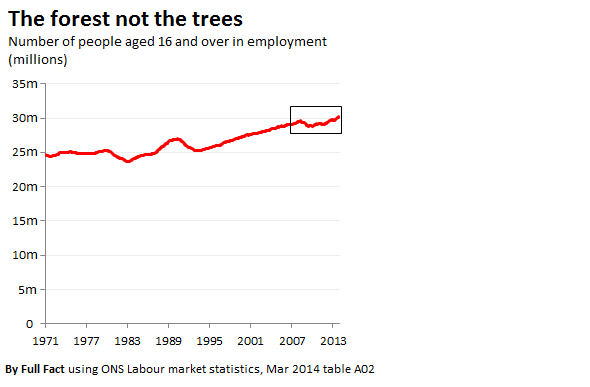 We need facts more than ever.
Right now, it's difficult to know what or who to trust. Misinformation is spreading. Politics and the media are being pushed to the limit by advancements in technology and uncertainty about the future. We need facts more than ever.
This is where you come in. Your donation is vital for our small, independent team to keep going, at the time when it's needed most. With your help, we can keep factchecking and demanding better from our politicians and public figures.We can give more people the tools to decide for themselves what to believe. We can intervene more effectively where false claims cause most harm.
Become a donor today and stand up for better public debate, on all sides, across the UK.
---