Renewable energy, domestic violence and Libya: factchecking Prime Minister's Questions
25 November 2015
Honesty in public debate matters
You can help us take action – and get our regular free email
Renewable energy
"If you compare the last parliament to the previous parliament, we saw something like a trebling in the installation of renewable electricity."—David Cameron
There are figures to support this, but the previous government can't take all the credit.
The Prime Minister is probably referring to the Conservatives' 2015 Manifesto claim that the Coalition government had overseen a "trebling [of] renewable energy generation to 19 per cent". We've asked the government to clarify today's version of the claim.
Figures show that in 2010 about 7% of the UK's electricity came from renewable sources. In 2014 that had risen to about 19% on one measure (the measures range between 18% and 20% for 2014). The main drivers of this increase have been wind power and biomass.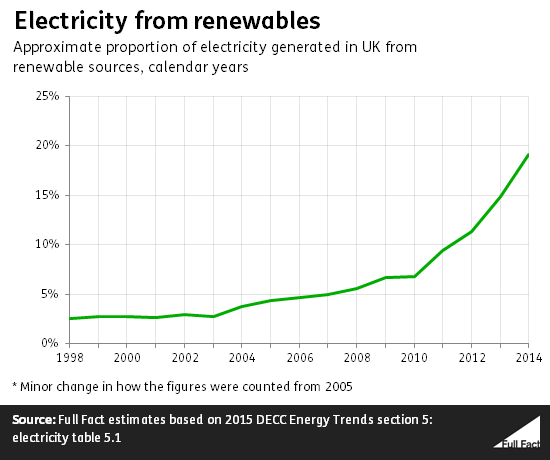 There are also figures for the first half of 2015 which show renewables now passing the 20% mark for the full year to March 2015.
The proportion of electricity from renewables has been rising since the turn of the century, but the increases noticeably accelerated after 2010.
The Coalition might have presided over this increase, but it can't claim to be the only cause. Wind farms can take several years of planning and construction to build and become operational. A few years ago we found several farms that opened during the last parliament started as projects under the previous Labour administration. This isn't to say the Coalition did nothing, but claims about energy generation need to be understood as part of a bigger picture.
"The gap between Britain's 2020 target and our current share of renewable energy is the biggest in the European Union"—Jeremy Corbyn
The EU has a commitment to get 20% of its energy from renewable sources by 2020. As part of this, the UK has been given the target of sourcing 15% of its energy (excluding some air transport) from renewable sources by 2020. Other countries have different targets.
The latest Europe-wide data (which relates to 2013) shows renewable energy contributing 5.1% of the UK's energy consumption (these figures differ to the UK's own data, as we discuss later). That's 9.9 percentage points off its target and places it at the bottom of all EU countries when ranked by the percentage point difference between each country's consumption and target.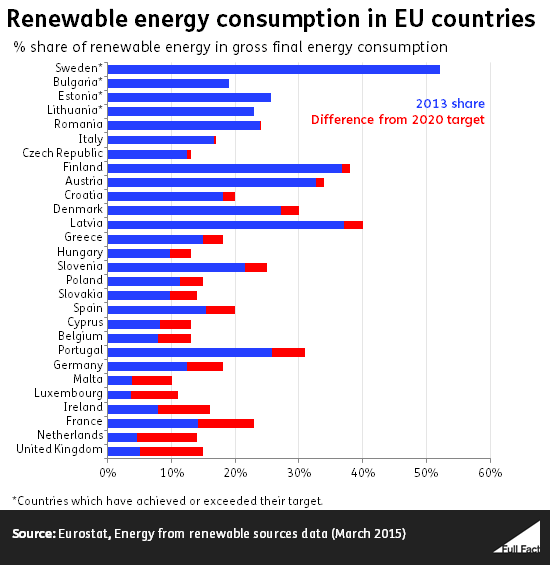 The other way to look at progress towards the target is to take consumption in 2013 as a proportion of the 2020 target. Looking at it this way, the UK is a little over a third towards its target (34%), and is third from bottom, above the Netherlands and Luxembourg. 
In reference to these statistics, the European Commission commented that the UK was off track. The UK's own figures have been revised since then and show the UK meeting its interim target for 2013 and 2014. See our factcheck for more on this.
Domestic violence
"On average, two women a week are killed by a current or former partner..."—Jeremy Corbyn
Partners or ex-partners were the principal suspect in the killing of 85 women in 2013/14, more than any other category of person. That works out at about 1.6 women a week.
The number varies from year to year. In 2008/09 there were 103 such deaths, so very close to two per week.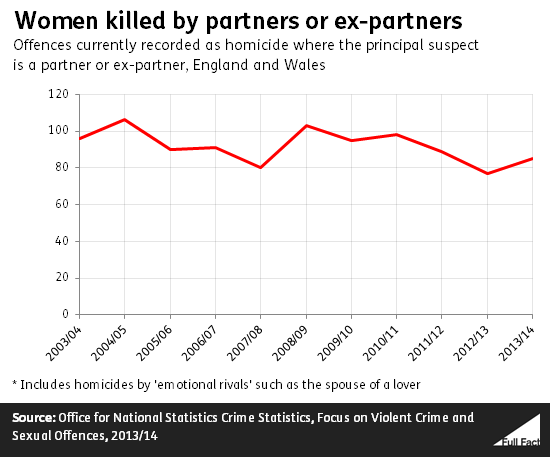 These figures could include killings perpetrated by an 'emotional rival' of the victim—for example if a victim was involved in an affair and was killed by their lover's partner. We don't know how much that affects these figures in practice and have asked the Office for National Statistics if it can break down the numbers further.
"...and domestic violence accounts for up to a quarter of all violent crime."—Jeremy Corbyn
The latest figures put domestic violence as about a fifth of violent crimes, but this is probably an underestimate.
According to the Crime Survey for England and Wales, about 21% of violent crimes in England and Wales were domestic in 2013/14, as opposed to being perpetrated by either a stranger or an acquaintance. The year before the figure was closer to 24%.
The figure for domestic violence is "likely to be an underestimation" according to the ONS. That's because there's a tendency for some victims of domestic violence not to report it in the face-to-face interviews that the statistics are based on.
Others have criticised the methods for counting the number of crimes, which could understate domestic violence compared to other crimes.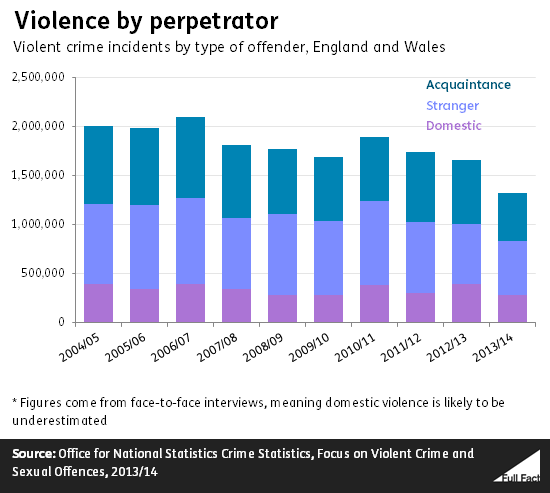 We've asked Labour to confirm the source of the "quarter" estimate.
"One third of those referred to women's refuges in England are now being turned away."—Jeremy Corbyn
Just under a third (31%) of referrals to refuges in England in 2013/14 were turned away because of lack of space, according to a survey of domestic violence services conducted by Women's Aid. The survey was answered by 45% of providers.
Libya
"The United Kingdom spent 13 times more bombing Libya than investing in its reconstruction after the overthrow of the Gaddafi regime."—Angus Robertson
It seems fair to say that the UK has spent more on military intervention in Libya than on "reconstruction" there, but precisely how much more depends on what you class as reconstruction and when you stop counting.
When we asked, the Scottish National Party (SNP) pointed us to a press release from July, which cites two separate sources. First, in a 2012 briefing, the Library gave an estimate of "the total additional costs" of the UK's 2011 participation in air strikes on Libya" as approximately £320 million.
Second, the Foreign Office has given a figure for "stabilisation assistance to the Libyan government" of £25 million during the period 2011-2013, in reply to a parliamentary question in June 2014.
This is indeed around 13 times less than the spending on military intervention, although it excludes spending on humanitarian aid to Libya of around £8 million.
A separate figure of around £35 million has been given by the Foreign Office to the Foreign Affairs Committee that's currently investigating the UK's role in Libya since 2011.
This is the total Department for International Development spend in Libya between 2011 and 2015, some of which was delivered before the fall of the Gaddafi regime in October 2011. It covers humanitarian aid as well as various other types of support—help with security, the economy and private sector development.
It's not immediately clear how much overlap there is between this £35 million figure and the numbers cited by the SNP.
Police
"When it comes to policing, what we've seen in London is actually an increase in neighbourhood policing."—David Cameron
As we found last week, the number of police in neighbourhood roles has increased since 2010 in London (the Metropolitan Police area). At the end of March 2010 there were 895 full-time equivalent officers in these roles and in March 2015 there were 5,612.
But the number of police officers in all roles is down on 2010, and the definition of 'neighbourhood policing' hasn't been consistent over time. A police officer with 'neighbourhood functions' now isn't necessarily the same as one with the same defined functions as in 2010. HM Inspectorate of Constabulary highlighted in 2012 that the scope of roles undertaken by neighbourhood teams was widening, such as including responding to nearby incidents.