In brief
Claim
Less than 29,000 homes for social rent were built under Labour in Scotland.
Conclusion
Around that many homes for social rent (and funded by the government) were built between 2000/01 to 2006/07. But the data doesn't include those homes for social rent that didn't receive any government funding.
Six council homes were built under Labour in Scotland.
Incorrect. This reflects a single year under the Labour-Lib Dem coalition in Scotland. Almost all social housing new-builds (several thousand each year) were started by housing associations during that time.
The SNP has delivered 52,600 homes for social rent.
This is how many were completed between 2007/08 and 2017/18. This figure isn't complete, as it doesn't include homes for social rent that weren't partially funded by the government.
The SNP has delivered 9,799 council homes.
Correct. This doesn't include homes completed by councils without any government funding.
Labour built 61,000 homes for social rent in Scotland.
Incorrect. 37,000 new-build social homes were started under eight years of Labour-Lib Dem coalition government in Scotland.
Claim 1 of 5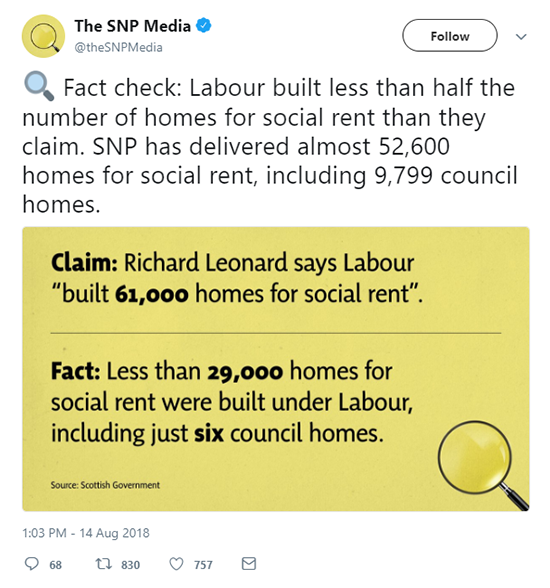 Earlier in August the Scottish National Party (SNP) tweeted about the number of homes for social rent that have been built in Scotland under Labour and SNP governments. The tweet was itself in response to an inaccurate claim made by the leader of the Scottish Labour party. The information in the SNP's tweet is factually correct, but it's reported in a misleading way.
The SNP has been in power in Scotland for longer than Labour (which was in coalition with the Liberal Democrats). It's been in government for 11 years, from 2007 to present, compared with eight years for Labour and the Lib Dems between 1999 and 2007. So, it makes sense to look at the average number built each year, rather than the total number of homes for social rent built under each government.
Social housing is owned and managed by councils and housing associations. It's designed to be affordable and allocated according to need.
The best estimate we can make is that the average number of social homes started (not completed), has been around 4,800 a year under the SNP, and was around 4,600 under the Labour-Lib Dem coalition. This only includes new-build homes, not those that were bought up or renovated, and may include some homes that are for purchase.
There's no perfect data source on social homes
The SNP is looking at figures on completed social rented homes delivered as part of the "affordable housing supply".
It found that since the start of 2007/08 around 52,600 homes for social rent have been completed, compared to around 29,000 between 2000/01 and 2006/07. That works out at about 4,800 homes per year under the SNP, compared to 4,100 per year under the Labour-Lib Dem coalition (there's no data covering their first year, 1999/2000). However, this data only includes social homes that were partially funded by the government, so it's not the complete picture.
Looking at housing "completions" is just one way of counting a government's record. It gives us an impression of how many homes are being made available on the market, but many of the homes completed early on in the life of a government are likely to have been started under the previous government. The Scottish government says that "Depending on the size of the site, the average time from start to completion of the entire site can range from anywhere between around 1.5 years to 2.75 years."
We can also look at housing starts, as this tells us when foundations were laid. But in this case, the data used by the SNP doesn't go back that far—it only goes to 2009/10 so we can't make a comparison with the previous government.
The two party's records are fairly similar
Separate data on "social sector" homes shows that an average of around 4,800 new social homes were started each year under the SNP, compared to around 4,600 per year under the Labour-Lib Dem coalition. Overall, it shows that 37,000 social homes were started in the Labour-Lib Dem years, with around 53,000 started under the SNP up to March 2018.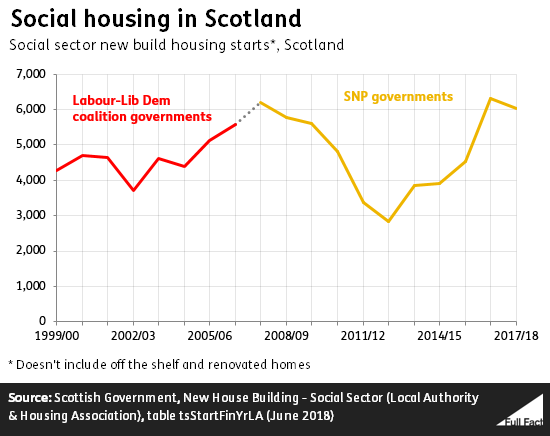 This "social sector" data isn't a perfect measure either. It only covers "new build" homes built from scratch—it misses out "off the shelf" homes (social housing providers buy properties from private developers to rent out) and renovated housing. Some of these homes may be available for purchase— we're checking with the Scottish government—but generally they are for renting.
The SNP was originally addressing a claim, made by Scottish Labour leader Richard Leonard, that Labour built 61,000 homes for social rent in Scotland. This is incorrect.
It's possible that Mr Leonard is referring to the period 1997/98 to 2009/10—when Labour controlled the UK government—during which there were 61,000 new build starts in the social sector in Scotland. But as housing is devolved, the policy on this would have been set by the Scottish government for most of this time. We've asked Scottish Labour for more information.
The council homes number needs more context
What about the claim that Labour only built six council homes? This refers to a single year in terms of either starts or completions, not Labour and the Lib-Dem's entire time in office, which is what all of the SNP's other figures refer to. It also reflects a different strategy towards providing social housing. Under the Labour-Lib Dem government almost all social homes were developed through housing associations, whereas it has been a mixture of councils and housing associations under the SNP.
Six new-build homes were started by councils in Scotland in 2005/06. Across the Labour-Lib Dem years, 340 new build homes were started by councils. That's 1% of social sector homes started during that time. Since the SNP have been in government around 11,200 have been started, or around 21% of all social sector home starts.
But as we outlined above, the overall social housing supply was at broadly similar levels each year under both SNP and Labour.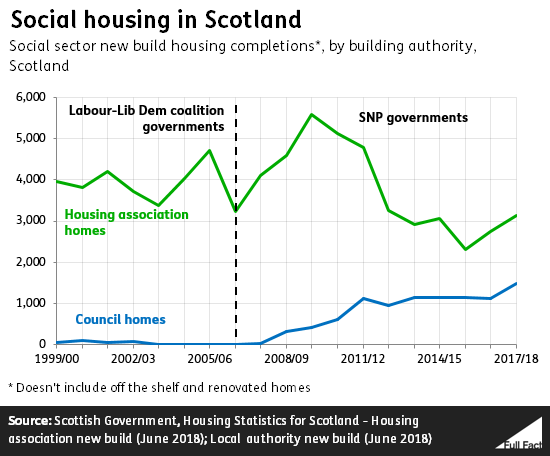 The integrity of our elections is in danger, and we need your help
You're probably here looking for facts. Thank you for that trust. But with the EU parliament elections on the way and more elections a possibility, we need to act now to make sure our elections are protected, before it's too late.
Could you help protect our elections by becoming a Full Fact donor?
Misinformation isn't new, but advancements in technology mean it can spread at an unprecedented scale. Our dangerously outdated election laws have not kept up with the digital age, putting our next elections at risk of abuse.
Currently, it's possible for a candidate to run a thousand different political ads to win the same seat, promising something different to each group it targets. At the same time, there's no law requiring those who publish online campaigns to disclose who they are or how they are funded. The opportunity for bad actors to manipulate election results is left wide open.
You may already know about our work to make public debate online more honest and transparent. Every day, we call out the most harmful misinformation on social media platforms when and where we see it. But right now, we're urging the government to overhaul our election laws to make sure political campaigning is held to the same level of scrutiny online as it is offline.
This work all depends on the generosity of hundreds of people who all believe that for democracy to work, we need transparency. Our monthly donors help strengthen our voice, and show our politicians that this really matters. Would you consider joining them?
Become a donor today to make sure our elections are protected.
---