In brief
Claim
Housing Benefit spending has risen by £4 billion.
Conclusion
Correct. The rise was £4.3 billion between 2009/10 and 2014/15 according to the Department for Work and Pensions, or £2.3 billion adjusted for inflation.
"Mr Speaker, the Housing Benefit bill has gone up by more than £4 billion because of high levels of rent and the necessity of supporting people in that."

Jeremy Corbyn, 2 November 2016
"If he thinks that the amount of money being spent on Housing Benefit is so important, why did he oppose the changes we made to Housing Benefit to reduce the Housing Benefit bill?"

Theresa May, 2 November 2016
Mr Corbyn is correct on his raw figures. The Housing Benefit bill did rise from around £20 billion in 2009/10 to over £24 billion in 2014/15, according to the Department for Work and Pensions. Spending for the last financial year hasn't been confirmed, but is expected to be around the same.
This is without adjusting for inflation, though. In real terms the increase is more like £2.3 billion rather than £4.3 billion.
Housing Benefit is around 14-15% of total benefit expenditure.
Although the increase is at least partly down to a rise in the number of people getting it, the amount paid out per person has also risen slightly. If we divide real terms expenditure by caseload, it comes to just over £5,000 per recipient in 2014/15, where it had been £4,900 in 2009/10. (This crude average doesn't tell us anything about what individuals typically receive.)
But Mrs May is right that the bill is set to fall. Policy changes since 2010 are due to realise real terms savings of over £5 billion by 2020/21, according to analysis by the House of Commons Library. While spending will still be higher than in 2010 in cash terms, it'll be down after adjusting for inflation, assuming the forecasts are correct.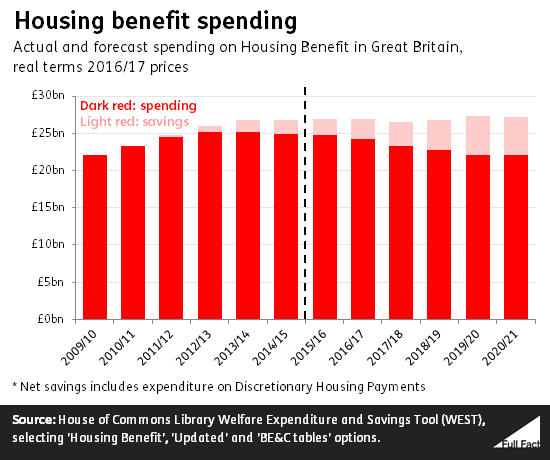 The biggest forecast saving, some £3 billion, is to come from reducing social rents—and so the amount of Housing Benefit paid out to cover them—by 1% a year for four years. Mr Corbyn voted against that measure in July 2015.
He said today, in response to Mrs May, that "my concern [is]... the incredible amount of money being paid into the private rented sector [because of] excessive rents".
This factcheck is part of a roundup of Prime Minister's Questions. Read the roundup.
We need facts more than ever.
Right now, it's difficult to know what or who to trust. Misinformation is spreading. Politics and the media are being pushed to the limit by advancements in technology and uncertainty about the future. We need facts more than ever.
This is where you come in. Your donation is vital for our small, independent team to keep going, at the time when it's needed most. With your help, we can keep factchecking and demanding better from our politicians and public figures.We can give more people the tools to decide for themselves what to believe. We can intervene more effectively where false claims cause most harm.
Become a donor today and stand up for better public debate, on all sides, across the UK.
---