In brief
Claim
Employment is falling.
Conclusion
Correct. The number of people in employment fell slightly between April 2019 and July 2019, though the employment rate is still at close to record highs.
Wages have stopped rising.
Incorrect. Average employee wages are growing at 1.9% per year in real terms.
Claim 1 of 2
"Employment is falling and wages have stopped rising, according to the latest official figures."

Evening Standard, 15 October 2019
Following the release of the latest labour force statistics the Evening Standard reported that employment is falling and wages have stopped rising.
It's correct that the number of people in employment fell by 0.2% between the three months to May and the three months to August 2019. However the employment rate remains close to a record high.
It's incorrect to say that wages have stopped rising. Wages for employees in Great Britain are growing at the same level they have been growing for several months.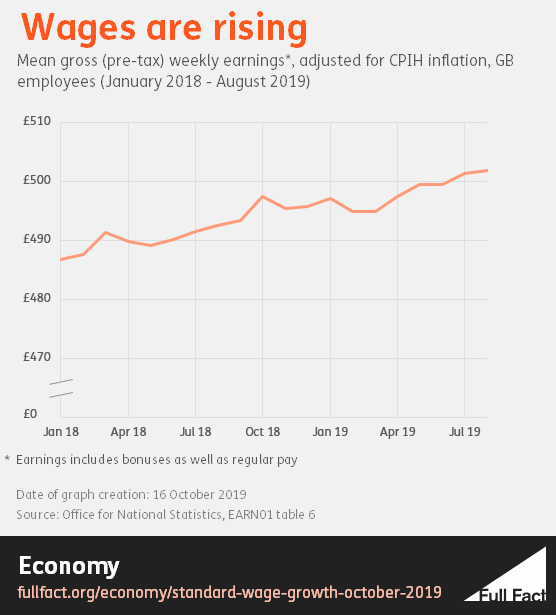 The Standard seemed to confuse wage growth being flat (meaning wages continue to grow at the same speed) with wages being flat (meaning wages aren't growing at all). Later in the article it says: "The figures on pay remain solid, with earnings rising at an annual rate of 3.8%. However, that was the same rate as last time, suggesting pay rises have stalled."
That's technically accurate, but it's incorrect to say this means "wages have stopped rising", as the Standard does in the article's first paragraph and on its twitter account.
Putting this aside, the Evening Standard doesn't seem to have adjusted its wages figures to account for the change in how much things cost over time (inflation). It's better to look at wage growth in real terms (adjusting for inflation) because it tells us whether wages are growing faster than prices are rising.
Average employee wages are growing in real terms by 1.9% per year which has been fairly constant for the past few months. Average wages are still below their pre-financial crisis high and you can read more about how wages have changed in recent history here.
Can you help protect this election from the influence of bad information? Support Full Fact
This election, clear, accurate facts won't always be a guarantee. False and harmful claims are spread every day by our public figures and media. Intentional or not, they have the power to shape the choices we make. We all deserve better than that.
That's why we're fighting to keep this election more honest and accountable. And we can't do it without you. In a fast-paced campaign, our supporters mean we can hold all candidates to the same three principles: get your facts right, back them up with evidence, and correct your mistakes.
Just a small monthly donation keeps us scrutinising the most harmful false claims around the clock, and challenging the people who make them.
If you, like us, don't want your vote to be influenced by bad information, can you help out?
---