The Chair of the UK Statistics Authority Andrew Dilnot has today written to Labour Leader Ed Miliband over his claim in the Sun newspaper that in Europe "only crisis-hit Spain has higher numbers of young unemployed than the UK."
The claim isn't inaccurate - it is, according to Mr Dilnot, "consistent with the latest published data for total numbers of unemployed people" - but it doesn't necessarily tell the whole story.
This is because the Labour Leader has chosen to focus on the number of unemployed people in each country across Europe, rather than the proportion of each country's workforce. As Mr Dilnot says, the resulting comparison "may be heavily affected by the relative sizes of the general population."
Instead, the Statistics Authority recommends that we compare the unemployment rate of the various European nations. While this isn't perfect - there are some inconsistencies in measuring the economic activity rate, for example - it does offer us a picture that accounts for the different-sized workforces across the continent.
So how does this change the overall picture?
As we can see from the table below, it actually changes it significantly.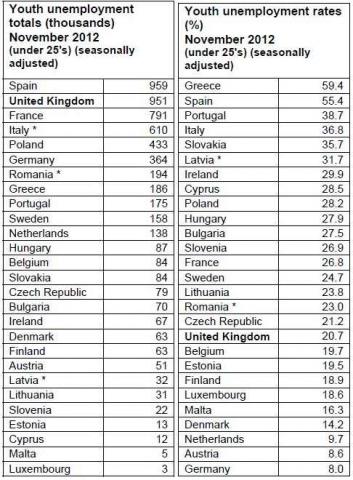 The UK is actually one of the better performing nations when unemployment is considered as a proportion of the economically active, even though it ranks second in Europe for youth unemployment in terms of the raw numbers out of work.
So while Mr Miliband's claim isn't wrong, it risks leaving the Sun's readers with a more gloomy picture than might be deserved.
Full Fact wants to see greater accountability for public figures who mislead us—and we need your help.
Political debate in the UK is in flux right now. The UK's exit from the European Union is approaching, we will soon have a new prime minister and potentially a general election.
We want politicians to tell the truth, and while the best politicians realise that their work should be done honestly, some aren't taking their responsibilities seriously. Both sides in the EU referendum campaign let voters down, from deceptively designed leaflets to some of the arguments made on each side. The public rightly expects more from politicians.
We want to see greater accountability for public figures who mislead. Full Fact will continue to advocate for higher standards and call out those who don't uphold them.
But we rely on the generosity of our supporters to make sure we can spot the most harmful misinformation when we most need to.
Can you help us?
Support better public debate today.
---