"Britain grew faster than any other major economy last year"—letter to the Telegraph from more than 100 business leaders
Britain's GDP grew faster than any other of what the International Monetary Fund (IMF) calls "major advanced economies"—the other G7 economies—last year. That's according to the IMF's figures.
These may actually understate the UK's lead, because the UK's GDP for 2014 was revised up to 2.8% yesterday from 2.6%. The IMF comparison is based on the 2.6% figure. Figures for other countries, such as Canada, have been revised and so differ from the IMF figures too. But these differences don't change the UK's ranking: even by the lower estimate of 2.6% the UK would come out on top.
GDP growth for other large economies such as India and China is somewhat higher. Their growth consistently outstrips those of 'advanced' economies but they're not generally considered comparable to the likes of the UK and Germany.
The UK's recent growth comes after a period of slow recovery compared to other large nations and overall growth since the pre-recession peak is still behind that of some of the other major advanced economies.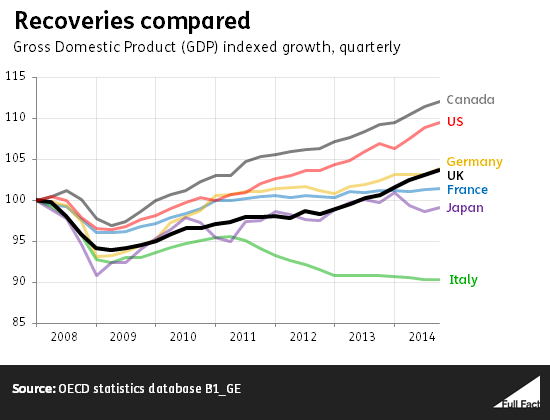 We need facts more than ever.
Right now, it's difficult to know what or who to trust. Misinformation is spreading. Politics and the media are being pushed to the limit by advancements in technology and uncertainty about the future. We need facts more than ever.
This is where you come in. Your donation is vital for our small, independent team to keep going, at the time when it's needed most. With your help, we can keep factchecking and demanding better from our politicians and public figures.We can give more people the tools to decide for themselves what to believe. We can intervene more effectively where false claims cause most harm.
Become a donor today and stand up for better public debate, on all sides, across the UK.
---