Is the UK growing faster than any other advanced economy?
5 December 2013
"Britain is currently growing faster than any other major advanced economy. Faster than France, which is contracting. Faster than Germany, faster even than America."
George Osborne, House of Commons, 5 December 2013

The government's economic plan is working. That is the key claim that many news outlets led with after the Chancellor's Autumn Statement this morning, and is one that is being fiercely contested by Labour.
Whether or not the UK economy is outperforming the rest of the developed world, as George Osborne claimed when unveiling his fiscal plans, depends upon the time frame we look at.
If by 'major advanced economies' the Chancellor meant the G7 group of nations, then it is certainly true that the UK's growth of 0.8% in the most recent quarter was faster than any of its competitors, pipping the US, whose economy grew by 0.7%. The economies of both France and Italy contracted over this period.
However the opposition claims that this isn't very revealing, arguing that the fact that the economy is growing swiftly now owes much to the low baseline set by "three damaging years of flatlining".
In total, the UK economy has grown by just under 3% since the Coalition took office in the second quarter of 2010, and this compares rather less favourably to other G7 countries: only France (which has grown 2.5%) and Italy (which has shrunk by nearly 4%) have fared worse, while the US has clocked growth of 6.7% over the same period.
To put these figures into context, the OECD data suggests that over the course of 2013 so far, China has seen growth of over 9%, while other developing economies such as Argentina and Indonesia have seen growth of over 6%.
In fact, the Chancellor's claim holds for only the most recent two quarters (Q2 and Q3 2013). Looking at G7 growth over the course of 2013, the UK currently ranks behind only Japan, which has grown 2.4% this year compared to our 1.8%.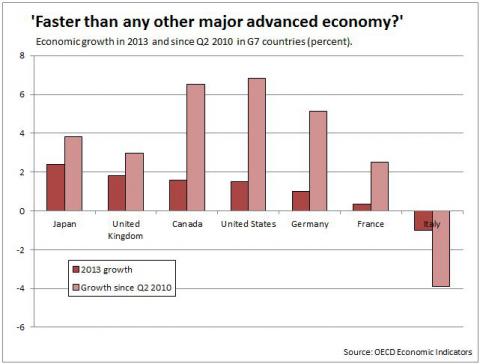 So while it is correct that the UK recorded the highest rate of growth in the past six months among G7 countries, but a longer-term view suggests the UK's performance has been more modest by international standards.