"And we have been rewarded for that supreme national effort... with economic growth that last year and now this year is forecast to be the fastest of any major advanced economy in the world."—George Osborne, 10 June 2015
We've heard before that the UK was the fastest growing of the G7 economies last year. Now it's forecast to be the fastest growing this year too - although not all forecasters agree we're in the #1 spot in this select group.
The UK is the fastest growing according to the latest forecasts from the OECD, which suggest the UK economy will grow 2.4% in 2015. The United States is the second fastest growing G7 economy, with a real GDP growth rate of 2%.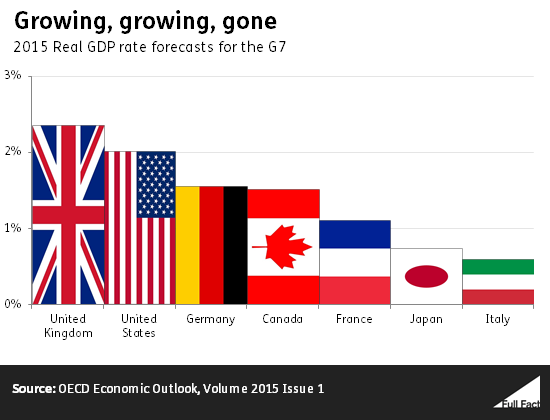 The International Monetary Fund has a slightly different view. It's April forecasts showed the UK growing at 2.7% in 2015, behind the United States' 3.1%.
While the UK's ranking changes between the estimates, a clear message from both is that the UK is performing well relative to its immediate peers.
The IMF and the OECD will not necessarily use the same models to produce their forecasts, and as the estimates were published in April and June respectively there could also be changes in the assumptions made and the data used in predicting the performance of the UK and the other G7 economies.
Isn't it nice to have the whole picture?
We rely on your donations to continue and grow our factchecking efforts - to help us maintain our independence we need 1000 donors to give £10 a month. We are currently at 607 - please help Full Fact grow.
---