"[Spending 0.2% of GNI] will bring Britain's aid spending into line with that of other advanced nations, such as the USA. We will still be spending around £4 billion annually, which is more in cash terms than Spain and Italy combined."
The government is currently meeting a UN target to spend 0.7% of the UK's Gross National Income (GNI) on overseas aid each year. GNI is the UK's output of goods and services, plus any income we get from abroad.
So for every £100 that's made in the UK, 70p goes toward foreign aid.
The amount this translates to in cash varies depending on the size of the economy. We spent £13.3 billion in 2016. If we had spent 0.2% of GNI in 2016, it would have worked out to about £3.8 billion.
Our economy is forecast to grow - if it does, the amount spent at the 0.7% target will increase. The same applies if the target is reduced to 0.2%.
The UK was one of six countries meeting the UN's 0.7% target in 2016. The USA was one of ten members of the OECD's Development Assistance Committee (DAC) spending 0.2% or less, putting it in the bottom third. The average for the DAC is about 0.3%.
Spain and Italy spent almost $9 billion between them in 2016, which is about £6.5 billion at the average exchange rate for that year. We've asked UKIP what it was referring to.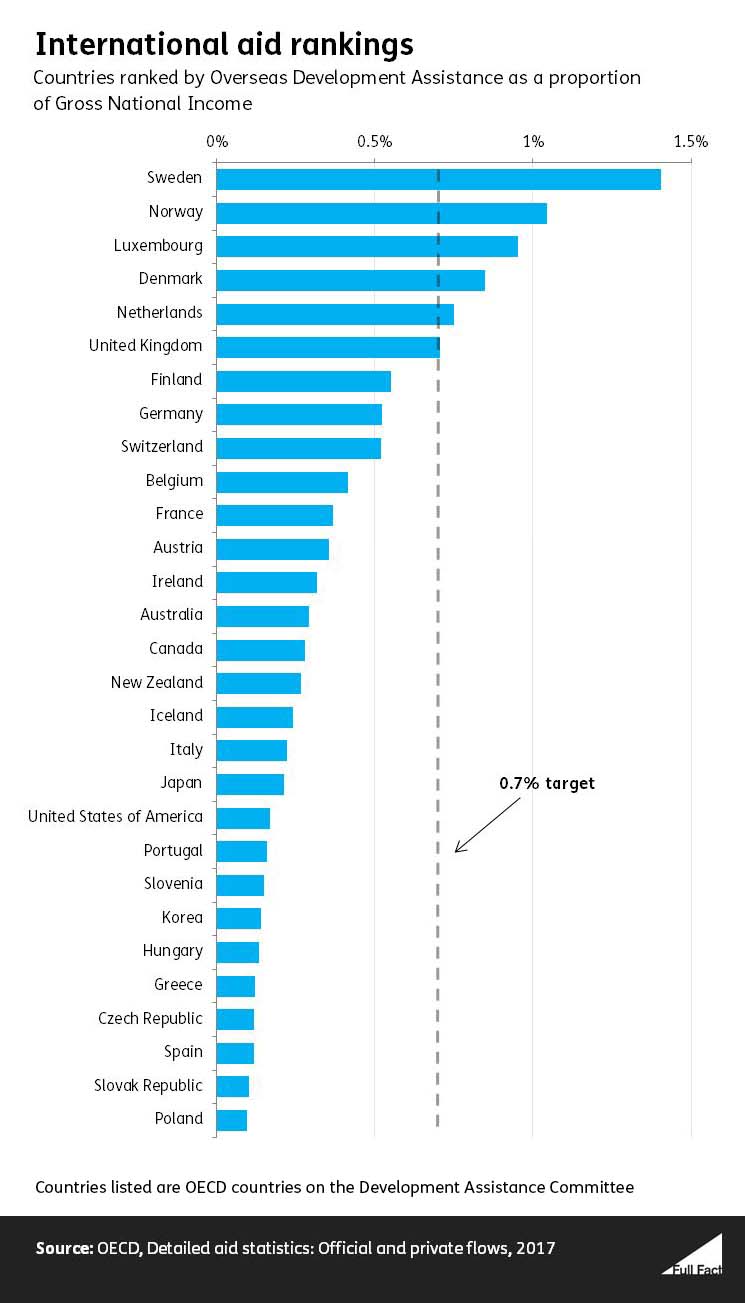 This factcheck is part of a roundup of UKIP manifesto launch. Read the roundup.
We aim for our factchecks to be as accurate and up-to-date as possible. If you think we've made an error or missed some relevant information, please email
team@fullfact.org
.